'Industry Day' Sheds Light on STEM Careers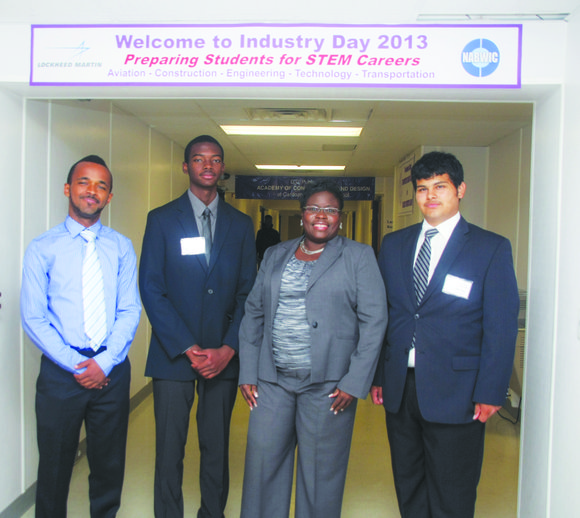 Nearly 70 executives from District-area industries recently took time away from their busy schedules to mentor students at a local high school and bolster their interests in Science, Technology, Engineering, and Math (STEM) careers.
About 150 students who attend the TransTech Academy at Cardozo Senior High School in Northwest participated in the fourth annual "Industry Day," which was co-sponsored by Lockheed Martin of Bethesda, Md., and the National Association of Black Women in Construction (NABWIC), headquartered in Fort Worth, Texas.

The daylong annual symposium, on May 23, not only offered the charter school students a chance to engage in a leadership roundtable with industry trailblazers from the aviation, construction, engineering, technology and transportation professions, it also provided an opportunity for students to talk with executives during a Q&A session about their career paths.
"We're in a global environment in terms of competition with the rest of the world," said Russell Zub, a Lockheed Martin business manager. "As a result, we compete on innovations that in general, come from a technical nature."
Zub added however, that in order for the U.S. to become more competitive in the global market, students need to zoom in on math, science and technology. "So, our goal is to help students at Cardozo get into STEM careers, which we think will benefit the country," he said.
Since its opening in 1991, about 600 students have graduated from TransTech Academy.
During that time, the charter school facility expanded its vocational education program to include a focus on STEM initiatives, using the nationally-renowned "Project Lead the Way" (PLTW) coursework as a tie-in with the future of transportation education in both D.C. and across the country. PLTW focuses on aviation and electromechanical technology.

NABWIC member Shelia Jones said during a recent interview that her organization has been fortunate in having established a relationship with TransTech.
"It was the connection we had with the academy's [projects] coordinator Shirley McCall by which the concept of 'Industry Day' was born," Jones said. "As NABWIC has begun to grow [with chapters across the country], we've unveiled our STEM education program and seen 'Industry Day' as being a very critical component of our [endeavors]."
Since the school's inception, about 85 percent of all TransTech's students have attended college. In June, Solomon Kassahun who received a $2,500 scholarship from Lockheed Martin – will graduate and plans to attend Pennsylvania State University in the fall.
The 19-year-old immigrant from Ethiopia, who enrolled at Cardozo as a freshman, has a 3.36 grade point average. He will parlay his math- and science-related accomplishments in research at TransTech into a medical career.
"I transferred [from Cardozo] to TransTech during my junior year because of my interest in the STEM studies, and I also want a career where I can help people," Kassahun said. "At first it was very different for me, because I didn't know who to turn to for guidance in the program. But I feel I have made a good choice, having had instructors at TransTech who were eager to guide me."
Shelly Karriem, director of the Academy of Construction and Design at Cardozo, is one of those teachers. She said the "Industry Day" event has always meant increased exposure for her students.
"Our students have very limited exposure in the District, so this event allows them to connect with some of the industry professionals who would otherwise never come in contact with them," Karriem said. "The day also gives students a chance to find out how the professionals got to where they are, and what it takes for them to get there as well. It makes them think that 'if they can, I can too' – and this is what the day is all about."