Michelle Obama Encourages Savoy Students to Succeed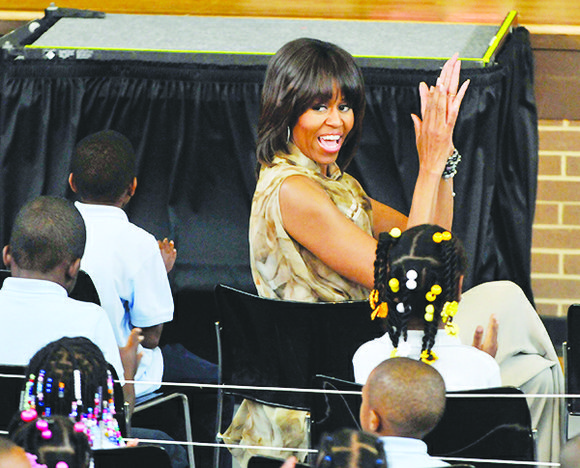 First lady Michelle Obama told a group of students at Savoy Elementary School during a recent visit that it's not the end of the world if they make mistakes.
But, she said, refrain from letting setbacks get in the way of your paths to success.
"No one is born smart. Failure is OK, but continuing to work hard is more important," said Obama. "I have failed. Things have really been hard for me at times ... [but] everyone has to work hard – even the president [to be successful]."
In challenging students to do their best, Obama pointed out that Kerry Washington, the star of ABC's highly-acclaimed television show, "Scandal," who accompanied the first lady during her May 24 visit to the Southeast school, endured many obstacles on her way to stardom.
"She spent a lot of time practicing and working and trying out for things and having people tell her 'no,' 'no, thank you,' 'you're not good enough, you're not pretty enough,'" said Obama. "Could you imagine somebody telling Kerry that she wasn't pretty enough, she wasn't tall enough, she was too short," she asked. "That's all performing is, [it's] rejection."
Savoy is one of eight schools nationwide that's participating in the "Turnaround: Arts – Creating Success in Schools," program. The first lady and Washington visited the school to congratulate the students on their accomplishments in the initiative, which falls under the umbrella of the President's Committee on the Arts and the Humanities (PCAH).
The first lady serves as PCAH's honorary chair, on the Committee that works directly with the president's administration and several cultural agencies – that include the National Endowment for the Arts – to address policy surrounding the arts and humanities. PCAH also initiates and supports key programs related to the arts and humanities and recognizes excellence in those fields.
Since becoming part of the "Turnaround: Arts" initiative two years ago, Savoy has reported a decrease in disciplinary problems and has seen an improvement in test scores. Along the way, Savoy which was once listed among the nation's lowest-performing schools, has developed a stronger network of partners who have been instrumental in the school's success.
Savoy principal, Patrick Pope, a veteran District of Columbia Public Schools administrator, who has been recognized for his efforts in making the school a model facility, said Washington adopted Savoy as her turnaround school and has been involved with it on a regular basis.
"[Ms. Washington as well as Savoy faculty, staff and administrators] are committed to the idea that all students in public education, regardless of skin color, have the right to a rich, high-quality education that includes the arts as part of every school day," Pope said. "That's why we're so fortunate to have been selected by the President's Committee on the Arts and the Humanities as a Turnaround: Arts school – a program that's working to bring arts education into historically low-performing schools across the country to engage our students and to improve learning."
Washington, 36, was joined on stage by a group of the school's dance and voice students for a performance of the "Lindy Hop" – an American dance that began in Harlem during the 1920s and '30s.
Washington later joked that she wasn't sure how she became Savoy's arts ambassador.
"It might have something to do with playing Olivia Pope and having a principal [named] Pope," she said. ["I'm] lucky that this happened, because this is a phenomenal school and it's a privilege to be part of the [positive] impact that's taking place here."