P.G. County Officials, Business Owners Ready for Awards Gala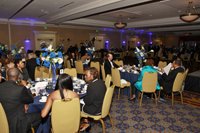 Prince George's County business owners will mingle Friday night with local and state elected leaders during the Excellence in Business Awards Gala in College Park.
The event, which will take place at the University of Maryland's Samuel Riggs IV Alumni Center and is sponsored by the county's Chamber of Commerce, will honor businesses and business owners in eight categories, including: Small Business of the Year, Entrepreneur of the Year and Business Leader of the Year.
David Harrington, CEO of the chamber, said the event gives business owners a chance to engage elected leaders.
"There's going to be a 'wow' [factor]. You're going to see some high level officials," he said. "There's a connection."
Attendees will include Maryland Attorney General Douglas Gansler, U.S. Rep. Steny Hoyer, U.S. Rep. Donna Edwards, state Sens. James Rosapepe and Joanne Benson, and Prince George's County Council Chair Andrea Harrison.