Va. Group Alarmed over Voter Rolls 'Purge'
Margaret Summers | 11/3/2013, 10:44 a.m.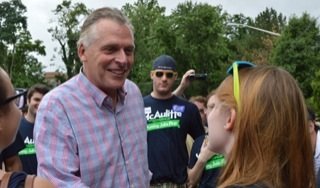 At least two Virginia voter registrars postponed removing names from voter rolls until after the election. Lawrence Haake III, Chesterfield County general registrar, told the Richmond Times-Dispatch that of the 2,200 voters' names he was told to purge, he found more than 170 mistakes among approximately 1,000 listed voters. Haake said the data mistakenly included voters whose most recent voter registration took place in Virginia.
"Virginia voters expect more from their election officials than to be summarily removed from the voters' list based on voter information provided by other states," Nguyen said. "Many of those states have notoriously poor voter databases."
Loudoun County general registrar Judy Brown told the newspaper Leesburg Today that she doesn't want to move too quickly and mistakenly delete names of legitimately registered voters.
A lawsuit filed by the Virginia Democratic Party to stop the roll purge and restore voters' names failed Oct. 18 when U.S. District Judge Claude M. Hilton said he found no inequitable treatment or deprivation of anyone's rights.
Nguyen said Virginia New Majority's Election Protection Program will have poll watchers across Virginia on Nov. 5. They will assist voters, direct them to correct voter districts, and answer their questions.
"We are establishing command centers with legal volunteers who will contact registrars if there are any problems," she said. "We want to make sure that qualified voters are able to vote. That's how democracy works best."