D.C. Mayor Gray Champions Neighborhood-Revitalization Program
WI Web Staff | 11/4/2013, 1 p.m.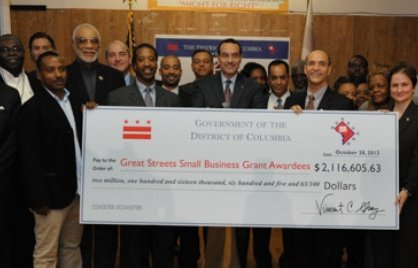 D.C. Mayor Vincent C. Gray on Sunday lauded the success of the city's program to revitalize distressed retail corridors and neighborhoods amid the program's recent grants to small businesses totaling more than $2 million.
In his weekly radio address on 99.1 FM (WNEW), Gray said the "Great Streets" initiative, which began in 2006 to transform under-utilized corridors into thriving neighborhood centers, has bolstered the city's economy and local businesses.
"My goal for the District is to ensure every resident and business has access to the opportunities and tools they need to thrive and grow – no matter where in our city they are located, Gray said. "Great Streets is a great way of doing this."
The Small Business Capital Improvement grants — which ranged from $20,000 to $85,000 apiece — were presented to 29 businesses last week.
"One of the key visions found in our five-year economic development strategy is for the District to become the most business-friendly economy in the nation," Gray said. "Great Streets helps us attain that vision by supporting business growth and development in areas that need more small and local businesses."
Gray cited the H Street-Benning Road corridor in Northeast as one of the success stories.
"It's absolutely thriving right now, and the soon-to-open DC Streetcar will prove to be even more of a boon to that revitalized area," he said.
The 29 businesses anticipate creating 200 new jobs with the help of the grants, he said.
"Within the last the last year, we've expanded this program from one retail corridor to 11, and the types of businesses we've supported include fitness clubs, veterinary clinics, home-goods stores, auto-repair shops and photography studios."
The 11 corridors eligible under the program:
· H Street and Benning Road NE
· Georgia Ave NW
· 7th Street NW
· North Capitol Street
· Rhode Island Avenue NE
· Bladensburg Road NE
· Connecticut Ave NW
· Nannie Helen Burroughs Avenue NE
· Pennsylvania Ave SE
· Minnesota Ave NE
· Martin Luther King Jr. Avenue SE and South Capitol Street SE