Redskins Survive Chargers in Overtime, 30-24
Gary Williams | 11/4/2013, 10:18 p.m.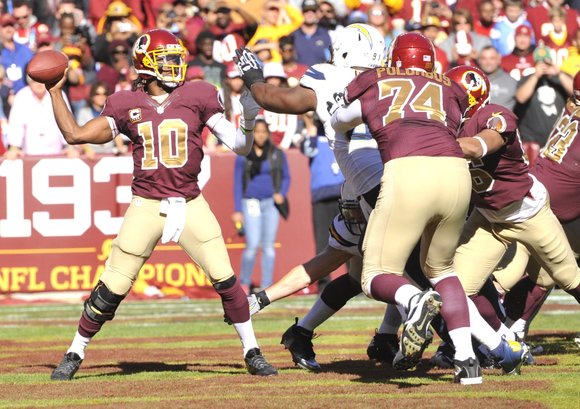 In what many considered a must-win game, the Washington Redskins defeated the San Diego Chargers, 30-24 in front of 80,115 rabid fans at FedEx Field. The win also took place on Homecoming Sunday where many of the team's great players from the past were in attendance.
A loss for Washington would have sent the team two games behind the NFC East-leading Dallas Cowboys, who were victorious on Sunday. The Redskins and the Philadelphia Eagles have the same number of losses, however, the Eagles have one win more than Washington.
The Redskins won despite blowing a 10-point fourth quarter lead. Fullback Darrell Young was one of the key offensive stars for the home team. Normally used as a lead blocker for halfbacks Alfred Morris and Roy Helu, Jr. and on special teams, Young scored three touchdowns including the game-winner, a four-yard plunge in overtime.
Wide receiver Pierre Garçon also performed well catching seven passes for 172 yards. Quarterback Robert Griffin III did not throw a touchdown and did have an interception that was returned for a touchdown. However, Griffin III was 23-32 for 291 yards and rushed six times for 17 yards including a crucial 10-yard scramble in the third quarter to gain a key first down. Griffin III went airborne to gain the last yard for the first down.
Defensively, defensive backs Erick Biggers and David Amerson registered interceptions and linebacker London Fletcher led the team with tackles with 13, seven of them unassisted.
The Burgundy and Gold have a quick turnaround as they will play a Thursday night game in Minnesota against the Vikings. The game will air on the NFL Network.