Va. African-American Officials Look Forward to McAuliffe as Governor
Margaret Summers | 11/5/2013, 10:30 p.m. | Updated on 11/6/2013, 9:01 a.m.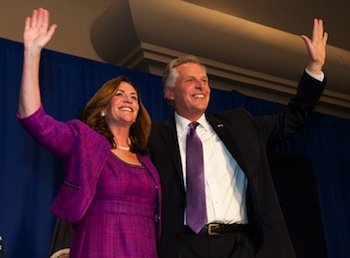 The Virginia gubernatorial election victory of Democrat Terry McAuliffe over the state's Republican attorney general Ken Cuccinelli in the Tuesday, Nov. 5 elections, spells relief for several of Virginia's African-American elected officials.
Many indicate that legislating under a conservative, Republican-dominated House of Delegates and a state Senate evenly split along party lines, with Cuccinelli's tie-breaker vote pushing through GOP measures, made it difficult to provide their constituents with needed services.
"Terry's win sends a message to the nation," said Democratic District 18 state Sen. L. Louise Lucas, 69, whose district encompasses parts of Brunswick, Wight, Southampton and Surry counties, among other areas. "It's that people are tired of the Republican 'tea party' antics. Republicans in Virginia have been pushing so hard to the right. It's enough to turn voters' stomachs inside out.
"I've talked to white, African-American and Hispanic voters in Virginia, and they're all tired of it," she said.
Democratic state Sen. Mamie E. Locke of District 2, which includes parts of the cities of Newport News, Portsmouth, Hampton and part of York County, said "McAuliffe's win means Virginia can now turn its attention away from what has been a right-wing social agenda to things that matter to the people in our state and my district: health care, education, transportation and employment."
Locke, 57, said during the years of Republican Gov. Bob McDonnell's administration, efforts had been made to limit voting rights, such as the passage earlier this year of a voter identification law.
"McAuliffe would veto any measure designed to curtail voting rights," she said.
Democratic Delegate Lionell Spruill Sr., of the 77th District, which includes parts of the cities of Chesapeake and Suffolk, agreed.
"Terry's a person who thinks all people should be treated equally," said Spruill, 66. "He supports women's rights and equal pay for women. He supports early childhood education, particularly for low-income children. That's especially important in my district, where not all children get early childhood education. They're behind the eight ball from the start.
"I hope Terry's win means more Democratic Delegates," he said. "With the tea party folks, it's 'my way or the highway.'"
Spruill also expressed hope that Virginia would adopt Medicaid expansion under McAuliffe, extending health care to the state's low-income residents. Before the state can do so, however, a 10-member Virginia Medicaid commission must vote on reforms to the program. A majority of the commission's state senators and delegates must approve the proposed reforms.
Catherine M. Hudgins, a Democratic supervisor on the Fairfax County Board of Supervisors for the Hunter Mill District, wrote in a statement, "With the McAuliffe win, Virginia has a new governor, who has pledged to move forward with transportation issues, is passionate about early childhood education, is zealous about economic development. All are significant issues in the Commonwealth, Fairfax County and the Hunter Mill District, impacting all citizens — African-American, Caucasian, Hispanic and Asian."
Hudgins, 69, wrote that under McAuliffe, there is a prospect for a broader restoration of rights for Virginians returning to society from prisons. The current decree only covers a fraction of returning citizens, and excludes those sentenced in violent and drug-related crimes. More than half of Virginia's prison population is African-American. "I am hopeful that meaningful progress will be made," Hudgins wrote.
Luke E. Torian, 55, the Democratic Delegate from District 52, which encompasses part of Prince William County, said McAuliffe will have a "wonderful working relationship" with the Virginia Black Caucus, the African-American members of the House of Delegates and the state Senate.
"I will be talking to McAuliffe about job creation in Northern Virginia, and continuing to firm up our public education system, and the need to address our state's transportation issues," Torian said.
"McAuliffe's agenda certainly has been to move forward unemployment and job training issues that African-Americans have to deal with," said Democratic Delegate Delores L. McQuinn, 58, whose District 70 includes parts of Chesterfield County and the city of Richmond. 
"During the campaign, he visited community colleges in the state, and said he wants to ensure everyone has the education and training they need to secure employment."
Alexandria Mayor William D. Euille, 63, said McAuliffe's win is not only significant for his city, but also for the state.
"It sets the tone for the mid-year elections for the U.S. Congress and the U.S. Senate next year," he said. "It demonstrates to Virginia candidates that Virginians care most about education, jobs and health care."