Mercedes-Benz Diesel Beats Competition to Clean-Car Punch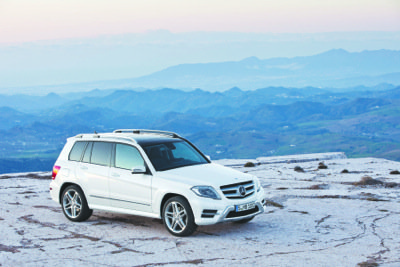 In an era of rising gasoline prices and increased concerns that the automobile has become a major contributor to greenhouse gases, car buyers are embracing greener power plant alternatives to the traditional gasoline-powered internal combustion engine. Cars running on gasoline-electric hybrid engines such as the Toyota Prius, and electrics relying on rechargeable batteries such as the Tesla S have gained a near cult status for their perceived environmental friendliness.
The green car migration, however, presents many potholes. The hybrid's higher cost and sometimes less than impressive fuel economy in real driving conditions and the purely electric's limitations in range threatens to keep these cars in the realm of commuting and getting around town.
For buyers looking for an all-purpose greener car, vehicles running Ultra-low sulfur fuel (ULSD) or clean diesels are hard to beat. Through the development of precisely controlled engines, and extensive treatment of exhaust gases, clean diesels bring greater flexibility, fuel efficiency, peppy performance and low emissions.
So it is no surprise that Mercedes-Benz, like its Germany-based competitors, has been rolling out diesel versions of its cars and SUVs at a clip. In just the last five years, German carmakers have introduced 25 diesel powered cars, such as this week's featured vehicle – the Mercedes-Benz GLK250 BlueTEC. BlueTEC – Benz's proprietary name for a series of diesel engine technologies, filters, and catalysts – marks the culmination of years of scientific research and powertrain engineering. The resulting engine burns cleaner than most gasoline engines and exhibits superior fuel economy at the same time.
After spending a week driving the GLK250 BlueTEC 4Matic, there's no doubt that this diesel is the star child of the company's small SUV lineup. It comes with a 200-horsepower four-cylinder engine and a boxy rugged-looking body that gives the SUV more of a luxury car than a utility vehicle feel, with an excellent seating position which is lower than you might expect in a vehicle of this type.
The interior is a bit austere but the material quality is excellent. Thanks to that upright and tall glasshouse, the cabin feels very open and airy, especially with the panoramic sunroof. The controls are nicely organized and full host of infotainment and safety technology is available, including Mercedes' MBrace2 system.
On the open highway, the GLK250 is not particularly quick on the get go, but once you push the vehicle hard, you'll never be at a loss for power. The seven-speed automatic transmission is smooth and the turbo makes it easy to engage the SUV in spirited driving if need be. Though the electric power steering and suspension system is tuned almost entirely as an on-road vehicle, the ride is composed and handling overall compares well to most other compact SUVs.
The 250 excels as a fuel sipper, providing a range of 510 miles on a full tank – which is almost good enough for a Washington, D.C. to New York and back trip. Our vehicle averaged 33.7 mpg; better than the EPA posted rating of 28 mpg combined (24 mpg city, 33 mpg highway).
Given its entry-level luxury orientation, the GLK has a relatively low entry price of less than $38,900. However, buyers will be shocked by the long list of options that includes a panoramic sunroof, auto-dimming mirrors, satellite radio, and the Mercedes COMAND system with navigation, rear-view camera, heated front seats and a styling package from Mercedes's AMG performance division, which can push the sticker price close to $50k.