CBC, Others Slam GOP over Watt Snub
Congressman Vows Not to Withdraw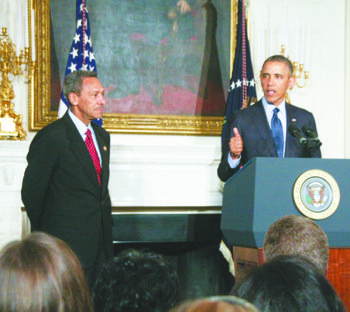 In 1970 he received a juris doctorate degree from Yale University Law School, where he served as a published member of the Yale Law Journal. 
Watt practiced law from 1970 to 1992, specializing in minority business and economic development law.
In 1985, Watt served one term in the North Carolina Senate.
A married father of two, Watt won election to Congress in 1992, becoming one of only two African-American members elected to the House from North Carolina in the 20th century.
Currently, Watt serves as a member of the House Judiciary Committee, on which he's the ranking member of the subcommittee on intellectual property, competition and the Internet. 
Additionally, he's a member of the House Financial Services Committee, which includes the subcommittee on capital markets and government sponsored enterprises and the subcommittee on financial institutions and consumer credit.  
"We've been able to go to Mel Watt with concerns and with actual legislation to address those concerns and he's always been receptive," said Brent A. Wilkes, national executive director of LULAC, also located in Northwest Washington, D.C.
"We believe strongly that, if he's confirmed, Watt has the skills and ability and most importantly, the integrity to take on big industry and to make sure that people are getting into homes fairly," said Wilkes, 47.
Chanelle Hardy, senior vice president for policy and executive director of the National Urban League's Washington D.C. bureau, said it's an injustice to block Watt's confirmation.
"Congressman Watt understands that the housing crisis has not ended in communities of color," Hardy said.
Despite the outcome, Watt said he isn't throwing the towel in yet.
"I do not plan to withdraw as the nominee for the position and I remain hopeful that we will prevail when the motion for reconsideration is taken up in the Senate," he said.