Charlayne Woodard Wows in 'The Night Watcher'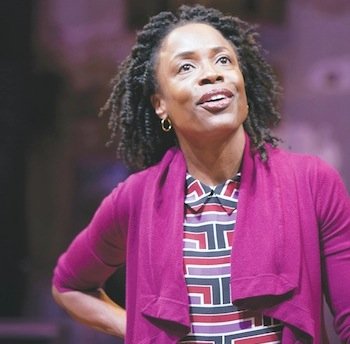 Armed with a chair, a beautiful, disarming smile and almost otherworldly energy, actress, singer and playwright Charlayne Woodard took a Studio Theatre audience on a magical two-hour odyssey that left them amazed and fulfilled.
Woodard, 59, performed her fourth solo play, "The Night Watcher," which in the course of 10 vignettes examines children and the concepts of motherhood through the prism of her roles as an aunt, godmother, mentor and confidante of 13 godchildren and 21 nieces and nephews. Woodard, who has no biological children of her own, resisted the temptation to adopt but said she's very worried about the challenges modern-day children face.
"I'm concerned for young people. The world has been coming at them much faster. It's difficult to synthesize all this," said the Albany, N.Y., native during a Tuesday, Nov. 5 interview. "I remember a young woman who I took to a birthday lunch and who had just graduated from Berkeley telling me she was lost. Lost. The world has changed and I see the need for children to have alternate adults like all those aunts and uncles I grew up with."
"I also believe that giving is the same as receiving. I must make time for people I've known since they were babies. I wanted to explore those who came to me with secrets and who I failed miserably. I tried."
With the intimate setting and small stage, Woodard could have reached out and touched members of the eclectic audience. She pranced and moved, struck poses to accentuate statements, used a mixture of exaggerated and subtle gestures to give weight to her words and stories and shifted easily from accent to accent, character to character and from adult voices to those of a child.
Framed pictures and what seemed like empty frames and items such as a crucifix, wine glasses, a California license plate, and a Universal Studios logo in shadow boxes on the wall behind Woodard were the only props on the spare set beside the wooden chair. As Woodard recounted each story, a spotlight bathed the appropriate frame or shadow box with light.
Early in the play, Woodard "talked" to fellow actress Alfre Woodard who suggested she and her husband Morris adopt a child. Woodard told the audience she and her husband reveled in lazy, rainy weekends in Los Angeles reading, chilling and enjoying each other's company but the idea of adopting a child intrigued her.
"Harris, while I'm gone, you could take care of the baby for the first eight weeks," Woodard exclaimed.
"Right now we have a choice but if we get that baby, that will be the last choice we ever make," her husband cautioned.
Woodard's character sounded selfish and self-indulgent at times but had expressed no regrets and instead lavished her love and attention on her young charges.
All of her plays are autobiographical, Woodard said, and she has written about her family and the vagaries of the human condition.
"I write about something that bothers or intrigues me," she said. "In my first play [Pretty Fire], I wrote about heroes, mothers and my father, who I considered to be a hero. The more personal you are, the more people you can reach.What I write about has gotta be life and death. I don't write about my kids who live comfortable lives. We have a responsibility to our kids at least until they're 21 and it can be the most gratifying ride of our lives. It certainly has been for me."