Charlayne Woodard Wows in 'The Night Watcher'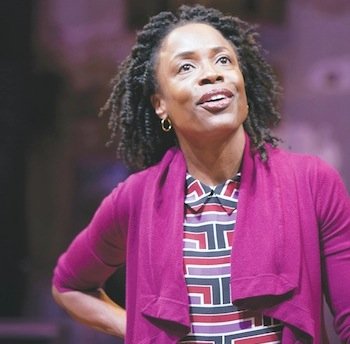 Woodard, a Tony and Drama Desk Awards nominee for her role in the original company production of Ain't Misbehavin', said the solo play took her three years to complete.
"I don't believe in perfection," she explained. "I don't try to have anything be perfect. I know when it's right. I workshop them twice. The first production reminds me of what I need to fix. Seattle gets the bare bones. There, critics don't kill it on the vine. Then I go to New York City, see what's wrong, fix it and take it to Los Angeles … I can tell that this is the best I can do right now based on how the audience feels."
Woodard called the audience her "theme park."
"I love the immediacy, especially in solo work. I can live within the rhythm of someone's sighs," she said with a laugh. "I come on stage and do a swan dive. Some days it feels good and sometimes, I almost kill myself. Day shows are different from night shows. They all feel different."
Woodard recalled her experience while performing before a sold-out show of 700 people.
"A woman in the front row brought a seeing eye dog. He didn't like it and he was growling. He was up in my face. And I said 'Wow.' I have to be prepared for anything because it's never ever the same."
Woodard used Sunday's 2 p.m. matinee as an example.
"The show had a majority of women," she said. "When it has [a majority of] men, it's a very different experience. When I say I wanted to open up worlds, and introduce her [her niece Africa] to literature, women say 'yeah' and men laugh. Women never laugh. Things happen like that."
"At the end of 'Nala', men applaud. Women take it in silently. Audiences change. Small audiences are more silent. It takes them the whole first act to warm up. Sometimes you have an audience who're like a wild horse. I wanted some of that."
Critics have called Woodard's performance "beautiful," "elegant," and "luminous," and Springfield, Va., resident Samantha Hale spoke of Woodard's candor and grace.
"I heard about the play through my mother," said the 40-year-old seventh-grade teacher. "I was thoroughly moved. I felt that she was talking to me. Everyone was hanging on her every word. Each story had its own little heartbeat."
"I wasn't thinking I'd be so enwrapped. I thought I'd be bored with only one person in the play but I was wrong."
Beth Wilkinson agreed.
"It definitely grabbed my attention," said the D.C. resident who's a speech pathologist. "It was captivating. I felt that I knew every person she was talking about. I jerked at every emotion. It was funny and thoughtful and wow, done by one person! I thought it was well done."
Woodard laughed when told of audience members who weren't sure of what to expect at a one-woman play.
"Nobody loves a solo play because people have brought a lot of easy stuff, but the audience loves to see you go where they're afraid to go," she said. "Hurt me, disturb me, make me not leave the same way I came…"
Woodard, who proudly calls herself "a blue-collar" actress, said The Night Watcher will be her last solo play.
That will likely be a source of sorrow for her fans but whatever she creates will undoubtedly stay with them.
"I was mulling over it and came to the conclusion that it was a well-thought out and well-written monologue," said Ted Andrews who lives in Southeast. She expresses a full range of actions and emotions. When I walked away, I didn't feel overburdened and I didn't feel underfed. I felt nourished."