Gray Announces New Sustainability Initiatives
Dorothy Rowley | 11/6/2013, 4:05 p.m. | Updated on 11/13/2013, 3 p.m.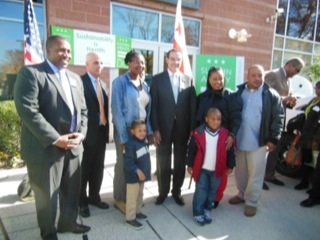 Efforts to make the District the greenest and most livable city in the nation by 2032, coupled with goals to improve the health of District residents, are key initiatives in new legislation Mayor Vincent C. Gray is undertaking to boost the Sustainable DC Plan.
The Sustainable DC Act of 2013 that Gray recently submitted to the D.C. Council also aims to reduce greenhouse-gas emissions throughout the city.
"Our message today is clear – sustainability is health – and our Sustainable DC Plan is about creating the healthiest, greenest, and most livable city in the nation," Gray said during a Nov. 6 press conference at THEARC in Southeast.
"District residents from Southern Avenue to Western Avenue and everywhere in between deserve to live in a healthy, sustainable, equitable and thriving city."
The District's determination to improve air quality will particularly help residents who suffer from respiratory diseases like asthma.

According to a statement from the mayor's office, studies not only reflect that people living in disadvantaged neighborhoods disproportionately suffer from the negative effects of air pollution, but they are more susceptible to developing asthma.
Currently, about 300 children in the District who suffer from asthma are hospitalized. As a result, one of the 32 goals contained in the 127-page Plan focuses on measures to reduce their visits to city emergency rooms.
Dr. Stephen Teach from the Children's National Medical Center (CNMC) accompanied Gray at the Ward 8 gathering.
Teach, who heads up the Improving Pediatric Asthma Care in the District of Columbia project at CNMC, discussed asthma and how the condition affects one out of five children in the District. In doing so, he noted that the rate is far above the national average, and that asthma tends to affect young African-American boys and older African-American women.
Teach described asthma, which consists of many diseases, as a genetic predisposition.
"It's one of the most chronic diseases of childhood, and children in the District of Columbia are severely infected with one of the highest rates in America," said Teach "In addition those rates are marked by dramatic disparities in multiple domains [that include wards 7and 8], and African-American children are more likely than Caucasian children in the District to have asthma."
Teach added that African-American children, who have less access to ongoing medical care, are more likely to miss school because of asthma-related flare-ups.
In the meantime, the District aims to lead by example, meaning that the city has placed emphasis on the provision of funds for special projects where agencies can help improve employees' health by providing cleaner air, water and healthier buildings.
And, to help move those projects along faster, Gray and the D.C. Council earlier this year, committed $4.5 million from the capital budget.
For instance, in a pilot program that will reduce pollution and save on fuel, 90 of the Metropolitan Police Department's new cruisers have been equipped with anti-idling devices. The legislation also earmarks funding to plant trees on school grounds and at the Bald Eagle Recreation Center in Southwest.
In addition, work is underway at the D.C. Housing Authority to design an energy plant that will power the Langston Dwellings in Northeast.
Keith Anderson, director of the District's Department of the Environment, said at the time of the Sustainable DC Plan's release in February, that the goals earmarked for achievement could be significant.
"The potential for the Sustainable DC Plan to improve the health of our people and the quality of our environment while simultaneously growing the economy, creating jobs, and reducing social inequity is nothing short of remarkable," Anderson said. "Sustainability is about achieving multiple benefits with every dollar spent and every action undertaken."