Immigration Reform Stuck in Limbo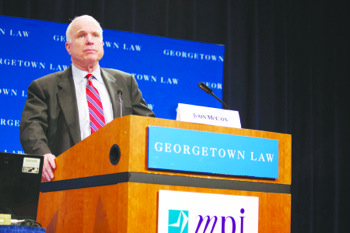 Barbour also said that Mississippi's $5 billion poultry industry is heavily dependent on Latino labor and he shared the story of inmates who after two days of working at chicken farms refused to go back because of the nature of the job.
While most of the focus of immigration is on the Latino community, undocumented immigrants, which number more than 11 million, also includes Asians, Africans from the continent, citizens of the Caribbean and elsewhere.

Lorella Praeli, director of Advocacy and Policy for United We Dream, told the packed auditorium that beyond politics and policy, human beings are involved.
"The movement was born in the 2000s when dreamers first came out," said Praeli, a Peruvian native who came to the U.S. as a child. "They defied fear and confronted power. In 2010, the Deferred Action for Childhood Arrivals (DACA) arrived and more people are coming out as undocumented. They've gone to Congress to advocate and created a national profile."
United We Dream is the largest immigrant youth-led organization in the nation which advocates for the dignity and fair treatment of immigrant youth and families, regardless of immigration status.
Praeli, 24, said undocumented immigrants remain in a legal limbo, families are being torn apart and will be until comprehensive immigration is passed.
"It's a moral crisis. Dreamers are being deported," she said. "The movement popped into the American consciousness … we built a movement, trained and inspired young people when it wasn't safe to come out. We put a face on this movement."
"We're two millions Dreamers. We had no other power than our moral authority and our willingness to come out."
The Obama administration has been deporting undocumented immigrants in record numbers. Last year, the U.S. deported more than 400,000 people.
National Journal Correspondent Fawn Johnson said she's written often that it appears that immigration reform is dead in the House.
"But it's not going away," she warned. "I don't think the House will pass anything this year or the next but I think Republicans are worried and are aware of the broader implications of appearing to be dug in on this issue."
The political dynamic could change, Lizza said, if during the 2014 mid-term elections Democrats snag the 17 seats needed to gain control of the House.
Arizona Sen. John McCain made a compelling case.
"This is a lesson of the present and future of America," he said. "This has a huge impact on the future of the nation and it will be a defining element of who we are."
McCain said critics talk about immigrants' negative impact on the economy and they claim that American workers are displaced.
"But the Congressional Budget Office, which still has a lot of credibility, said the budget deficit would be reduced by $850 billion over 10 years, add $320 billion to the trust fund, and grow the U.S. economy an additional 4.8 percent in 20 years," he said.
"Eleven million are living in the shadows, exploited, living in constant fear of being discovered. They're not leaving. And no one's lining up buses to send them back to wherever the hell they want to send them. We have an issue that must define our nation. Sooner or later, we have to make this a nation our children can be proud of."