'Love in Afghanistan': A Cross Cultural Romance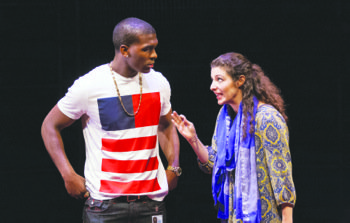 On the other hand, Duke is trying to be something that he is not, a "from-the-street rapper" and eventually reveals his true nature as a result of his injuries. The incident brings his mother to Afghanistan from Dubai, where she has been working, and into contact with Sayeed and Roya.
"Exploring the culture dynamic between Roya and Duke was a lot of fun. Understanding that women in Afghanistan and women in America are very different when it comes to personal space and intentions," said Davis. "I liked seeing how far I could go and how much she would allow me to flirt before shutting me down. We had a young lady who is from Afghanistan and she gave a lot of insight to the way Afghan women react to flirting and personal boundaries."
Ultimately, the play turns when Desiree invites Roya and Sayeed to meet her and Duke in Dubai at her expense. While it soon becomes evident that the romance between Roya and Duke can't flourish due to her dedication to an organization which assists Afghan women, a steamy interlude between Sayeed and Desiree adds spice to a somewhat predictable story line. Dawn Ursula's character takes center stage, along with Melis Aker's Roya, when the two find that, as women, they have more in common than the would-be lovers.
"Love in Afghanistan" plays at the Arena Stage's Kogod Cradle through November 17th, and is complemented by post-show discussions on Nov. 7 and 12, and two panel discussions "Afghanistan – What's Going to Happen After We Leave," on Nov. 16 following the 2 p.m. matinee and "Beyond the Headlines: Discovering Afghanistan" on Nov. 17 following the 1 p.m. matinee. Visit www.arenastage.org or call (202) 544-9066 for schedule and ticket information.