Maxwell Focuses on Teacher Retention, Programs
New Schools' Leader Provides Progress Report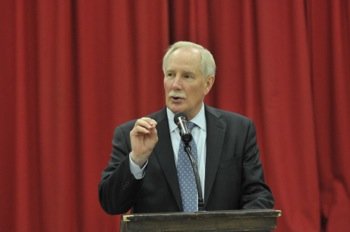 Teacher retention and building strong academic programs topped the agenda of the new CEO of Prince George's County Public Schools in a progress update given to county council members during a hearing last week.
County schools CEO Kevin Maxwell met with the county council for the first time since being appointed in July. For nearly an hour, council members peppered Maxwell and his deputy superintendent, Monique Davis, with questions about the state of the school system, academic programs, and facilities.
"We recognize we have work to do," said Council Chair Andrea Harrison (D-Dist. 5) of Glenarden.
Maxwell was selected to head the county school system by County Executive Rushern L. Baker III (D) after he was granted the authority to select a school system leader by state legislators. Maxwell had previously served as superintended of Anne Arundel County Public Schools and as a teacher and principal in Prince George's County for 20 years.
Maxwell, who was named as the state's superintendent of the year last week, has already started to change the school system's leadership. Last month, he announced a transition team that will review the strengths of the school district and identify issues that require additional attention. Maxwell said the focus will include teaching and learning, communication, and resource alignment.
"This transition team will help me to determine the needs for the district and the appropriate next steps as it relates to key areas of school operations," Maxwell said at the time.
Still, council members said the school system needs to ensure faculty and staff are trained to meet the needs of all students.
Will Campos (D-Dist. 2) of Hyattsville urged Maxwell to do more to ensure diversity is present within the school system's leadership. Campos, who is Latino, said some schools in his district have a majority Latino population making the need for bilingual administrators crucial.
"We don't have one person who is a teacher or staff person [who is bilingual]…there's a market out there for being bilingual," he said.
The stakes are high for Maxwell to turn the county school system around. Prince George's County has the second largest school district in the state. Baker made improving county schools a campaign promise, part of his initiative to revamp the county's image.
Councilman Derrick Leon Davis (D-Dist. 6) of Mitchellville asked what can be done to stop the school system from losing teachers to other school districts. The school system hired more than 600 teachers at the start of the academic year to replace educators, many of whom left for other jurisdictions.
"It is about competition in the region," he said. "How do we bring the best talent?"
Maxwell said that the county school system needs to focus on wages and other benefits to retain teachers.
"We have to adjust our competition practices," Maxwell told the council on Oct. 29. "We do a great job of recruiting people but we don't do a good job at keeping them here."
Council members said they are concerned about areas in the county not having certain academic programs specifically dealing with math, science, and the performing arts.
"The perception in southern Prince George's County is that we don't get the best programs," said Councilman Mel Franklin (D-Dist. 9) of Upper Marlboro. "How can we change the perception?"
Maxwell reiterated that the county's size presents challenges in equalizing the availability of programs. Adding that in order for the entire school system to improve, there must be a team effort.
"We need to recognize we are a large district. It doesn't matter where we go in the county … it feels like other [schools in the county] are getting things," he said. "Having everybody fight for their own piece of the pie is fruitless … they all have to support each other."