P.G. County Narrows Economic Development Focus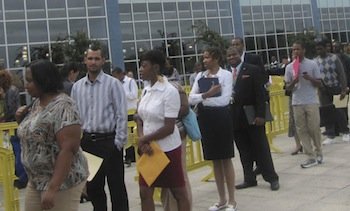 Prince George's County officials told residents during a town hall meeting this week that the county would continue to target key industries as a means to increase revenue and expand the county's commercial tax base.
County council members joined senior officials in the county government to give residents an update on the region's economic development strategic plan during a town hall meeting at Suitland High School in District Heights on Monday night. Officials said they would pursue opportunities with the federal government, private sector businesses, and health and life services to ensure growth in the county.
"We want more federal jobs in Prince George's County and we're determined to get that," said David Iannucci, deputy chief administrative officer for the Economic Development and Public Infrastructure.
Bringing more jobs to the county has been a goal of County Executive Rushern L. Baker III, 55 (D). The county is still recovering from losses during the 2008 recession in which it lost more jobs than neighboring jurisdictions and has been slower to regain jobs. Iannucci said that the county has one job for every three of its residents, which lags behind other counties in the Washington, D.C. region.
"We are largely a bedroom community. We don't have enough jobs," he said. "Too many of our residents leave the county [for work]."
Still, residents who attended the meeting said they wanted the county to do more to invest in communities, particularly youth and education.
"The most valuable commodity we could have [for our community] is our children," said Karen Anderson, president of the Suitland Civic Association, who is advocating for a new Suitland High School. "We expect excellence in our children but we do not extend excellence to them."
Sylvia Quinton, development director at the Suitland Technology Center, urged officials to recognize the county's natural assets, such as urban farms and green spaces.
"We really need to begin to link our developed tier to our underdeveloped tear," she said.
But officials maintained the focus has been on generating revenues for the county, which would allow for stronger investments in communities.
"This is the beginning of how we turn [things] around here," said Aubrey Thagard, an assistant administrator with the Economic Development and Public Infrastructure.
County council members reminded residents that growth and resources to revive neighborhoods takes time. Councilman Will Campos (D-District 2) of Hyattsville cited the Gateway Arts District in Hyattsville as an example of a project that took years to develop.
"Sometimes it does take awhile," he said. "Please be patient, we are working to revitalize our county."