Power Shift: British Black Panther Party Remembered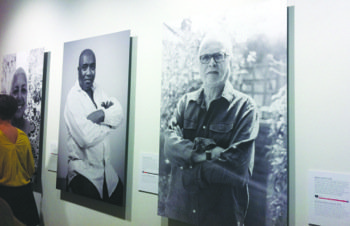 The impact of the American Civil Rights Movement on people of color around the globe cannot be overstated. Millions continue to commemorate the peaceful protests of organizations like the Southern Christian Leadership Conference (SCLC), and the Student Non-Violent Coordinating Committee (SNCC), that eventually led to a modicum of social and economic equality. Fifty years after the March on Washington, Black Londoners; however, set out to acknowledge the leadership of a small British contingent of revolutionaries, who fashioned after America's Black Panther Party for Self-Defense, tackled racial injustice in their own backyards.
Organised Youth, a group of young photographers, filmmakers, curators and future historians, with the aid of Photofusion's Community Programme, unearthed an often overlooked (and sadly, unknown) history of the British Black Panther Movement. With three months of dedicated research, Organised Youth (made up of 13 to 25 year olds), produced a vibrant visual and oral history archive of the personal narratives, collective mission, and triumphs of former Panther members.
The result: a phenomenal work whose magnitude proves overwhelming. The compassion and earnestness with which these young people went to task, is evidenced in photos that are powerful, haunting, and even surreal. The accompanying interviews, like a road map to unknown treasures, fill in the blanks of relatives and relations, only whispered about or wistfully alluded to.
Though the British Black Panthers (BPP), which was active from 1968 to 1972, galvanized to defeat several looming attempts to legislate repatriation, they never carried guns nor sought to politicize their movement.
"We were a movement – we were never interested in gaining seats in Parliament; we were a movement aiming to educate our communities and to fight injustice and discrimination … America was just coming out of segregation then, while we never had it. So there was a huge difference between our problems and theirs," said Neil Kenlock, a former BPP photographer, who assisted Organised Youth. "I saw a Panther in Brixton giving out leaflets about police brutality and discrimination and joined them then."
Kenlock, 62, explained that while there were similarities between the American and British Panthers, the latter grew out of growing discrimination encountered by Black college students whose parents emigrated from the Caribbean or parts of Africa years earlier or sent them to England to be educated.
"Back then, the best students from the Commonwealth were sent to Britain to be educated. Many of those who associated with the Panthers were those sorts of people; they had never encountered discrimination in their own countries, where they were the sons or daughters of the middle classes. So when they got here for university, they discovered this inequality and decided to fight against that, but they needed support in our communities, so they came to Brixton and met people like me who shared these challenges, and we worked together," Kenlock said.
Such was the case for Darcus Howe, 70, who after taking distinctions in French, Latin, and Spanish and passing the college exhibitioners at 17 in his native Trinidad, journeyed to Southampton. What he found was space carved out for immigrants with stereotypes of inferiority, illiteracy, and a belief that dark people were more akin to monkeys than men. Employment, then, would naturally not support his doing anything beyond factory work, domestic service, or delivering mail.
"I would describe it as climbing a steep hill. For every 10 steps you took up, you slid down nine. So when you look at your parents or you look at those from your countries and ask them, and you know something, we never admitted it, this is bravado, we're ashamed to admit that degradation. And that was a subsoil in which the Panthers were planted and grew," Howe said.
For more information on Organised Youth and the British Black Panthers or to purchase copies of the limited editions of The British Black Panthers and Black Power Movement: An Oral History and Photography Project, visit www.organisedyouth.com