RAP, Inc. Celebrates 43 Years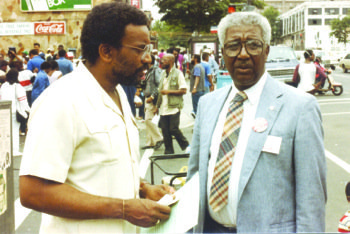 Stephenson said that as RAP commemorates its 43 years, the need doesn't diminish.
"People are dealing with unemployment, family issues and other challenges and some of it is hereditary," he said. "The drug of choice used to be PCP, crack and of course, there's alcohol. The epidemic is not as public or visible as it once was. People are still suffering in the dark of night. I can't say it's getting better."
Stephenson said the event will serve as a way to say thank you to Clark and an exemplary staff.
"With all these people coming together, we wanted to recognize our staff. We take great pride in acknowledging and saluting the RAP staff and their leader Ron Clark for their decades of sacrifice and service to the citizens of Washington, D.C. Sometimes as an employee you have to stuff [away] your own problems and take care of the people you serve. Some people go way beyond."
RAP currently has a staff of 40 after recent employee cuts.

At the same time, Stephenson said, RAP celebrates the men and women who the organization helps face their challenges head on.
According to RAP, statistics indicate that about 60,000 D.C. residents – one of every 10 – need treatment for alcohol and drug addiction. The economic cost to the city is $1.2 billion a year but the social costs are incalculable. More than three-quarters of foster care placements are drug-related, as are half of all domestic violence cases. In addition, one-third of new HIV infections is drug related.
Stephenson and other experts say recovery isn't simply a matter of abstinence and people often don't see that the true battles are against poverty and homelessness, racism, homophobia, re-entry after long periods of incarceration and inadequate education to compete effectively in today's job market. In addition, there are disparities in the health care system that make it difficult for individuals to gain access to care for HIV, hepatitis, and mental illness.
"One element that makes us unique with our drug-treatment program is the Afrocentric approach," Stephenson said. "We're helping them figure out who they are. Many of them are not really clear who they are in the universe. It's also a matter of self-esteem. RAP cares about the person, and helps them as they move out of RAP."
"RAP has been the place where mothers and fathers, sisters and brothers, uncles and aunts, nephews and nieces, friends and co-workers – loved ones all – have come to receive treatment services. We are asking everyone who knows someone who has received or needs RAP's services to support our fundraising event. Help make sure the services will be available in the future."
Tickets for the celebration are $50 apiece and can be purchased online. Visit www.rapinc.org/events for more information, or call 202-529-1946.