SisterMentors Hold Breakfast Fundraiser
11/6/2013, 3 p.m.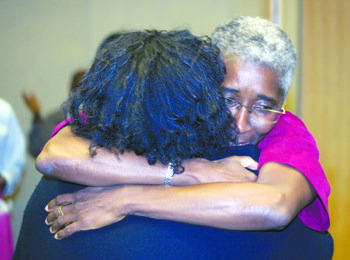 SisterMentors recently held a breakfast fundraiser, "SisterMentors Discovered: Building the Dream," to continue its mission of supporting African-American doctoral students through their dissertation defenses, as well as at-risk teen girls of color in completing college.
"Being a part of a network of doctoral candidates is extremely empowering to women. What really pushes us is seeing others graduate. Once people see progress being made, it's a huge motivator for them," said Dr. Shireen Lewis, SisterMentors founder. "By mentoring young girls, these women encourage them to reach levels they may never have considered possible."
The free session, held at the Carnegie Endowment for International Peace in Northwest, was attended by Council member Mary M. Cheh (D-Ward 3), who earlier this year spearheaded a D.C. Council Recognition Resolution in support of SisterMentors.
"It is no secret that an educational achievement gap exists in this country, and [programs] like SisterMentors are essential in the fight to erase it," said Cheh."By supporting and mentoring young women as they matriculate through college and graduate school, SisterMentors is providing an invaluable service to our community, and the city is grateful to them for all of their work."
In 1997, SisterMentors was originally comprised of a group of highly motivated women of color, ethnicities and backgrounds who came together to help each other complete their dissertations and earn their doctoral degrees. In 2001, the program expanded its efforts by mentoring young girls in elementary, middle, and high school to help reduce the high drop-out rates in the Washington, D.C.area.
To learn more about SisterMentors, a project of EduSeed, a 501 Non-profit organization, and plans for their 15th anniversary celebration, visit www.sistermentors.org.