Ward 8 Church Hosts Wellness Program Launch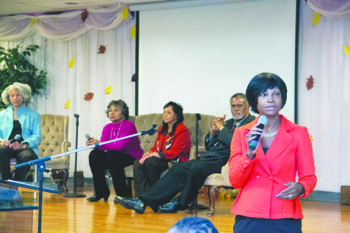 Hundreds of District residents recently started a three-week program designed to improve health outcomes at a well-known Southeast church.
Matthews Memorial Baptist Church served as the host for the "Wellness for Life: 21-Day Journey to Better Health" program that's sponsored by AmeriHealth District of Columbia, the AmeriHealth Caritas Partnership and the Coca-Cola Company Foundation on Saturday, Nov. 2. Karen Dale, the executive director of AmeriHealth District of Columbia, said that the kick-off in Ward 8 wasn't by happenstance.
"Many of our members of AmeriHealth live in Ward 8 and the health statistics are very poor in the east end of the city," said Dale, 50.
Statistics compiled by the District's Department of Health reveal that heart disease and cancer are the leading causes of death in Ward 8 but both are lower than citywide and national rates.
However, the HIV rate in the ward is almost 16 times higher than the U.S. rate and death due to hypertension occurs seven times more often than in the U.S. Diabetes-related death are four percent higher in the ward than the entire city and the nation, overall.
Dale said that the "21-Day Journey" program is designed to help bring down those statistics.
"The 21-Day Journey is all about empowerment," she said, "giving one the tools and inspiration to make healthy changes for you and your loved ones."
The event is part of AmeriHealth Caritas Partnership's Health Ministry, a faith-based effort designed to improve health outcomes with the assistance of churches and religious leaders nationally. The church has planned Monday evening workshops on Nov. 11, 18 and 25 from 5:30-7:30 p.m. that will feature classes on healthy living.
The health screenings for blood pressure, body mass index and glucose levels attracted many residents during the five-hour event. Tables representing such health care providers and health organizations such as AmeriHealth District of Columbia, Howard University Hospital and its Sickle Cell Center along with Essence Dental Care in Southeast, also drew a crowd.
In the fellowship hall, a panel discussion on health took place, along with lunch and cooking demonstrations. Participants also watched a dramatic performance called "Stress Hurts."
Residents treated themselves to buffet-style meals of fruits, vegetables and other healthy, natural foods. Marilyn Johnson, a resident of Ward 8, said she wouldn't have missed the event.
"I wanted to get my blood sugar checked for high blood pressure," said Johnson, 49. "I am interested in the classes on how to control diabetes."
Johnson said that she's not a member of Matthews Memorial but a neighbor told her about the challenge.
Shirley Snowden said that she learned about the program through the Informer and it piqued her interest.
"I came here to get more information about healthy living," said Snowden, 57. "I am here for the health screenings and I plan to go to the different [tables] for information."
Dale said that the emphasis with the "21-Day Journey" is primarily prevention.
"We want people to commit every day to keeping healthy," she said. "People need to have an annual check-up and get to know their personal provider. For example, if you catch hypertension early [with annual check-ups], there will be no need for medication later."