Braveboy Announces Run for Md. Attorney General
P.G. Delegate Would Be First Female, African-American to Hold Office
Joshua Garner | 11/7/2013, 7:30 p.m. | Updated on 11/26/2013, 2 p.m.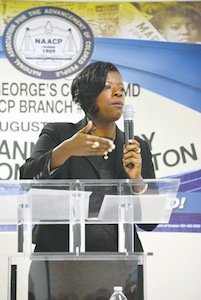 After building a reputation on helping communities receive adequate legal representation, Maryland Del. Aisha Braveboy has announced she's making a run for the attorney general's office.
Braveboy, 39, (D-Dist. 25) of Mitchellville said she will focus on reducing foreclosure rates throughout the state, improving education equality, and reducing the state's incarceration rate.
"The attorney general isn't supposed to be beholden to any political interest," she said. "I want to be on the people's ticket … I continue to be of service to the people."
Braveboy, a lawyer, happens to be the only female and African-American hopeful to announce her candidacy so far. If elected, she would be the first black and the first woman to hold the office.
Braveboy, a native of Washington, D.C., grew up in Largo and graduated from Largo High School. She graduated from the University of Maryland, College Park in 1997, where she majored in government and politics. After receiving a law degree from Howard University in 2000, she worked for the Federal Communications Commission in Northwest, specializing in policy. By 2003, Braveboy joined the Prince George's County Council as a policy liaison, eventually heading the county's Land Acquisition and Real Property Division.
But her work in assisting homeowner associations in legal matters spurred her political aspirations. In 2006, she was urged by community members to make a run for the Maryland House of Delegates in her district, which includes portions of Mitchellville, District Heights, Largo, Upper Marlboro, Suitland and Forestville.
"I was being called to serve," she said. "I had not planned to run for office. I had planned on just being a lawyer."
Facing a crowded field of about nine candidates during the 2006 election, some of whom received endorsements from state politicians, Braveboy said she ran a smart and honest campaign.
"I think the important thing is to understand the process but never forget how you got there," she said. "There are certain issues that can't be compromised."
Now with her eyes on the attorney general's office, Braveboy said she wants to focus her candidacy on issues that impact communities such as closing disparities in the education system and helping residents to maintain the equity in their homes. She said that her career as an attorney and her pro-bono work in the community makes her a strong candidate.
"Those issues align well with the office of attorney general," she said. "I want to serve [the public] but my first love is law."
Braveboy's supporters said they know her as a politician who fights for the underdog.
Brenda Raysor, 61, of Landover said she met Braveboy earlier this year after she helped her condominium association mediate a dispute with its board of directors.
"She sat. She heard our cries – she came to our rescue," Raysor said. "Everything she said she'd do to help us, she has [done]."
Dave Turner, a member of the Maryland Historical Trust, worked with Braveboy during her time as counsel for the Prince George's County Historic Preservation Commission. He's impressed by her passion for helping those who are disenfranchised.
"I've seen a lot of lawyers in the government and private system. I've never seen one more professional," he said. "She represents the little guy by nature."
For more Prince George's County/Maryland news, follow @JoshuaGarnerDC on Twitter.