D.C. Students' Math, Reading Gains Among Tops in Nation
WI Web Staff | 11/7/2013, 3 p.m.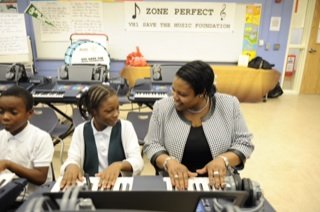 D.C. students have made substantial improvements in math and reading, outpacing nearly all of the rest of the county's gains, according to a biennial standardized test regarded as the "Nation's Report Card."
Fourth-grade reading went up 5 points and math went up 7 points in the District since 2011, according to the results released Thursday from the 2013 National Assessment of Educational Progress.
8th-grade reading scores went up 6 points, and math scores increased by 5 points. By comparison, the national trend is only a 1 to 2 point growth for both subjects and grades.
• Click here to view the results (PDF file)
"D.C. is showing the nation that when you embrace higher expectations for teachers and for students, they rise to the challenge," said D.C. Public Schools Chancellor Kaya Henderson. "This work is difficult and it takes time, but our breakthrough gains demonstrate that the reforms we have put in place are working, and our students are making great progress."
D.C. and Tennessee are the only two state-level school systems that improved in the past two years at each grade level in both math and reading. Despite the gains, however, city students are still below the national overall average.