Norton to Introduce Back-Pay Bill for Furloughed Contract Workers
WI Web Staff | 11/7/2013, 1:07 p.m.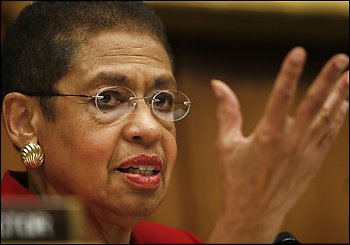 D.C. Delegate Eleanor Holmes Norton said Thursday that she will introduce a bill to grant back pay to federally contracted retail, food, custodial and security service workers who were furloughed during the federal government shutdown in October.
"Many federally contracted workers in federal agencies earn little more than the minimum wage with few, if any benefits," Norton said. "While others are unionized with a little better wages, all are the lowest paid workers in the federal government and should not be punished because Congress failed to do its job and keep the government functioning for 16 days."
Norton plans to introduce the bill after the House returns from recess next week. The bill, which would amend the current continuing resolution, would apply to all three branches of the federal government.
"Congress did the right thing when it gave back pay to federal employees, who work in the same buildings as these low-wage service workers," she said. "However, both groups of workers were victims who deserve to be made whole."
"I recognize, of course, that contract workers are employees of contractors, but the distinction between federal workers and at least the lowest-paid service workers who serve the federal government and its employees and keep their premises clean, fails when it comes to a deliberate government shutdown," Norton said. "Unlike many other contractors, those who employ service workers have little latitude to help make up for lost wages. Federally contracted service workers could least afford the loss of pay during the shutdown, and should not now have to go to work every day with everyone else in their federal buildings having received back pay except for them."