Now What? Redskins Find Themselves in Familiar Hole
WI Web Staff | 11/8/2013, 3 p.m.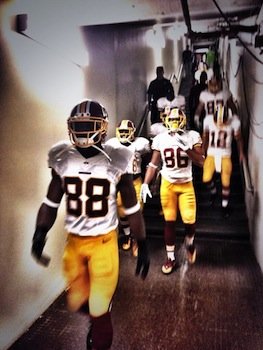 If the Washington Redskins' second half of the 2013 season goes anything like the second half of Thursday night's loss to the lowly Minnesota Vikings, the burgundy and gold faithful are in for a rough ending to a season that began with lofty aspirations — even if the team itself remains optimistic about its chances.
The Redskins are currently mired at 3-6, a mere half-game ahead of the last-place New York Giants in the NFC East.
On the other hand, they're only two games out of first place with several inter-divisional games left on the schedule, including their next contest, a Nov. 17 showdown against the Philadelphia Eagles.
And, of course, the Redskins had the exact same record last year after nine games, and that squad reeled off seven straight wins to clinch the division.
But this year's version has yet to resemble that team, at least on a regular basis. After a Week 4 win against the Oakland Raiders ended a three-game skid to start the season, the Redskins have been a model of inconsistency, alternating wins and losses.
That trend continued in Minnesota on Thursday. The Vikings, which has few offensive weapons outside of superstar running back Adrian Peterson, erased a 13-point second-half deficit to defeat the Redskins, 34-27, despite sterling performances from Washington quarterback Robert Griffin III, running back Alfred Morris and wide receiver Pierre Garcon.
It was the second straight loss for the Redskins in which they failed to hold a double-digit lead in the second half.
"We had a couple drives in the third quarter that didn't go our way — can't have those drives — but we also can't let that swing the momentum for the rest of the game," Griffin said afterward. "I felt like we were in control, and when you walk off the field with a loss, it's very disheartening."
Griffin conceded that the team was in a hole, but maintained that no one in the locker room had quit on the season.
"This loss definitely hurts, but we got to pick it back up," he said. "I think all of the guys will come back ready to work. I mean, we have no other option."
Washington head coach Mike Shanahan also refused to write off the season, but lamented the blown opportunities thus far.
"It's disappointing [but] you go back to work to make sure you get it done," he said. "There's a lot of good things that happened in [the Vikings loss], but we're gonna reflect on the things we did poorly, because you've got to find a way to win those games."