Students Encouraged to be More Tech-Savvy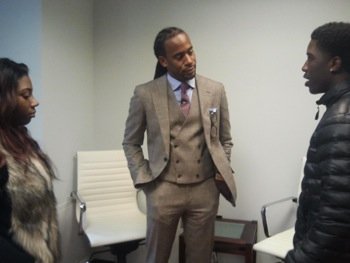 While most youth have access to laptop computers, smartphones and iPads, not nearly enough are taking advantage of the wealth of information within their immediate grasp, a popular television personality told a group of local students.
Jeff Johnson, a former BET journalist and host of the network's popular teen-oriented "Rap City," spoke Nov. 7 with the group of Cardozo High School seniors who took a motivational field trip to the AT&T Innovation Center in Northwest.
"Think of all the information at your disposal as digital consumption," said Johnson, 40, who is currently a partner in a Baltimore-based communications firm. "What's so sustainable is that every time I consume [any] kind of information [from one the aforementioned devices], it gives me the energy to go where I want to go."
During the four-hour event, which included workshops and a pizza lunch, Johnson asked his attentive charges how many of them who planned to attend college already had their tuition covered.
When none of the 10 students responded, he asked how many had been on Twitter, Facebook or Instagram in the past 24 hours — or had visited those and other websites every day for the past week. Nearly everyone's hands flew up.
But when Johnson asked how many had recently visited websites in search of information about the colleges they planned to attend, he again received no reply.
After momentarily joking with the students, Johnson said he was trying to make the point that there are a lot of "dumb kids" with smartphones.
"You've got a smartphone in your hand, but you're constantly talking about what you don't know," he said. "That device can tell you everything you want to know. Think about what you consume on a daily basis online and digitally [as if it's] food," he said. "Everything we eat helps us to get to where we need to go — and the more nutrients you feed yourself, the stronger you are."
Johnson explained at the end of his dialogue that the focus was to help the students determine how they could more effectively use technology as well as to ensure they were aware of how to take advantage of the information at their disposal.
"I wanted to let them know that all of us have gifts, and that those gifts make room for us, whether we believe in the Bible or have seen it practically," Johnson said.
The event came about after a similar, well-received outing in October that staff from the locally-based Communities in Schools program held with another group of Cardozo seniors.
The trips provided students "an opportunity to be more aware of what it means to live, work and play in our tech-savvy society," said Elyssa Rae, a communications specialist who organized the events on behalf of AT&T's mentoring program in conjunction with a $5 million partnership with Communities in Schools.