Always Steady, More Dynamic Toyota Avalon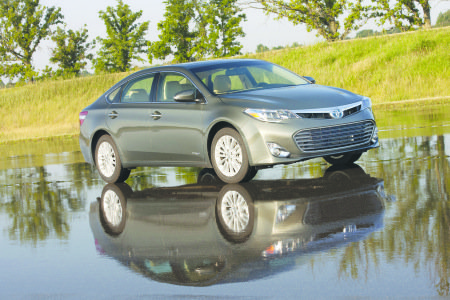 For decades, the American full-size sedan was the de facto family car. It was not only the best-seller but its most prominent features – big motor, cavernous trunk, big front bench seat and a transmission that generally traded sportiness in return for relaxation – defined what an automobile ought to be.
But as fuel prices began to rise and mid-size cars got roomier, the popularity of the full-size waned.
This week's feature automobile, the Toyota Avalon, has been the Japan-based carmaker's answer to the big American sedan. Conceived to be relentlessly non-offensive so as to please an older American demographic, Toyota pulled out all stops to clone Buicks and other large Americans sedans – complete with a squishy ride, frumpy body style, six-seat layout, vague steering and an added thin layer of luxury.
But not even the best cloning efforts could weather the winds of time. As Buicks began shedding their dowdy image by becoming more chic, the Avalon found itself relegated to the role of de facto emperor of the upscale bland class. The completely remade Avalon, built in Georgetown, Ky., moves the car in a more vibrant, youthful direction.
Drivers have a choice of two engines – a powerful V-6 gasoline powertrain borrowed from the Camry and Toyota's proven Hybrid Synergy Drive rated by the EPA at 40 mpg combined. We drove both models, spending a total of 15 days hitting destinations in the District, Virginia and Maryland.
Dynamically, the big sedan's front-wheel-drive chassis has been engineered not to waft over bumps but to absorb them with a more European feel – giving the car a better composed ride. The electric power steering is firmer and provides better feedback than before.
While we were impressed by the all-aluminum 6-cylinder engine which produces 268 horsepower and 248 lbs. ft. of torque – propelling the sedan to 60 mph in under seven seconds, our sentimental favorite was the hybrid. Regardless of whether it was in the Sport, Eco or the default driving mode, the hybrid delivered linear and predictable power for a serene ride and, as an added bonus, improved fuel economy. The exterior redesign is an improvement by Toyota's very conservative design ethos, but a little understated compared to the competition. With its pronounced central droop and gaping bass mouth front grille, the Avalon gets what's becoming Toyota's new corporate face. There's a trendy down sloping roof, shorter front and rear overhangs, and lower beltline that make the car look a bit sleeker.
Inside, the Avalon has an attractive sweep to the new dashboard, standard leather seats, high-quality materials, and an air of spaciousness that makes the cabin feel welcoming. Our test models came with an upgraded JBL audio system, an instrument panel featuring three screens offering multiple touchscreen information displays and soft white ambient lighting all through. Safety features include 10 airbags, stability and traction control, pre-collision mitigation, blind-spot monitoring, and a new "variable-ratio brake pedal" that varies initial and final pedal effort.
For serious buyers, deciding on which model to buy in this class is not all straight forward. Avalon's main rivals range from the Chevrolet Impala (recently rated top sedan by Consumer Reports) and Dodge Charger to the Kia Cadenza and Hyundai Azera – all great choices and also nicely priced. We'd also throw in more premium-brand rivals like the Chrysler 300, Buick LaCrosse and Lincoln MKZ.
While I'm partial to the Hybrid, some may find the higher-end Touring/Limited models acceptable. Those versions start around $36,000, with the Hybrid's base price ranging from $36,350 to $42,195. Then there's the case of the Lexus ES 350, also made by Toyota. The Lexus starts at $37,265; but both cars share a platform and the gas version's optional 3.5-liter V-6. We found the Avalon actually handles better than the Lexus.