AFRICA BRIEFS: Anti-Corruption Group Taps Angolan Blogger for Prize
Global Information Network | 11/13/2013, 11:16 a.m.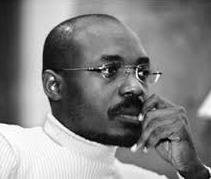 Thousands Attend Memorial for Ken Saro Wiwa
For his defense of the environment in the oil-rich lands in Nigeria's southern tip, Ogoni activist Ken Saro Wiwa paid the highest price on Nov. 10, 1995.
This week, Nigerians at home and abroad celebrated Saro Wiwa's life and courage in leading the Ogoni people to oppose the polluting oil extraction activities of Shell oil and other oil multinationals.
Uche Igwe was a university student when he learned that Ken and his eight kinsmen were arrested and sentenced to death by a military tribunal. They were quickly executed despite international appeals for clemency.
"Saro Wiwa was a gifted internationalist, eloquent speaker and prolific writer," wrote Igwe in SaharaReporters online. "He brought the issues of environmental despoliation and economic deprivation of the Niger Delta people before the global radar screen. The phenomenal success he achieved through non-violence remains a model for (an) effective campaign in Africa."
This week, thousands of Nigerians attended a memorial for Saro Wiwa which included a candle light procession to the Port Harcourt prisons that once housed the Ogoni activists, followed by a trip to the Port Harcourt cemetery where the Ogonis were buried in shallow graves and soaked in acid for quick decomposition.
The Nigerian Environmental Rights Action/Friends of the Earth called the memorial "a call to all activists to continue to preserve territories, support environmental rights defenders, resist corporate rule and seek justice for communities affected by dirty energy."
Prize-winning activist Nnimmo Bassey wrote: "Since 1995, Nov. 10 has been marked as a day of solidarity with the people of Ogoniland and Nigeria as a whole as we continue to struggle against reckless extractive activities resulting in gross pollutions and destruction of lives and livelihoods."
"That day has become the Global Day of Remembrance of Martyrs of Environmental Justice."
A collection of Saro Wiwa's last writings is now available in paperback. The title is "Silence Would Be Treason." It can be found on Amazon.
Kenyan MPs, In Stealth Attack, Slash Women's Rights
In a stunning set-back to the equal rights movement, Kenyan male MPs voted to undo some of women's hard-fought victories that provided financial support for women in case of divorce.
In a late-night vote by parliament, revisions to the Matrimonial Property Bill by the male MPs were carried easily as only 34 women MPs were in the house. The women were beaten 87-28 in a roll call vote.
The revisions include a change giving spouses a share only of that property that's in both the couple's names. Property in the name of only one spouse is no longer matrimonial property.
This flies in the face of the fact that family property is traditionally and as a matter of routine registered just in the husband's name.
Women MPs wanted a simple formula where the wealth is shared equally, irrespective of what each partner contributed.
James Lomenen who led the debate, argued it would be unfair for the properties to be shared even after husbands had paid dowry.