D.C. Honors Veterans and Tuskegee Airmen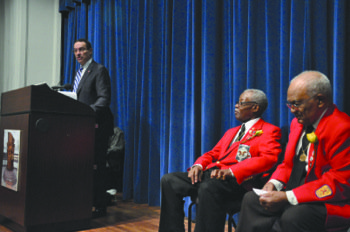 In the hour or so before a Monday morning wreath-laying ceremony at the African American Civil War Memorial in Northwest, the curious and the appreciative engaged four Tuskegee Airmen in conversation.
The men, resplendent in bright red jackets and adorned with military medals, patches and insignias, bathed in the adulation. The quartet – William Fauntroy, Jr., Ivan Ware, Edward Talbot and William L. Anderson – were guests of honor of Museum Director Frank Smith on the day that the nation paused to thank and show their indebtedness to military veterans.
At a ceremony following the laying of the wreath, well over 100 people trooped across the street to the Civil War Museum where Congresswoman Eleanor Holmes Norton (D) presented the Congressional Medal of Honor to two of the original Tuskegee Airmen.
"The Tuskegee Airmen paved the way. They integrated the military five years before President Truman signed the executive order ending segregation," said Norton at the Nov. 11 ceremony. "They are marked by their bravery, hard work and persistence. When they came back from the Army, they insisted that they be treated like other officers. They protested, some were punished, others were discharged."
"But they demanded their rights and because they stood up, others benefitted."
The Tuskegee Airmen, immortalized in the movie Red Tails and the TV movie Tuskegee Airmen, were considered the elite of the U.S. Army Air Corps and overcame racism and discrimination and fought with distinction in World War II. As a part of the Tuskegee Experiment, pilots from the 332nd Fighter groups and other units were trained to fly at the Tuskegee Airfield in Tuskegee, Ala. Training began in 1941.
"D.C. veterans are a group apart and the Tuskegee Airmen stand apart because they succeeded where others were not allowed to try," Norton, 76, said. "I have to give it to the Army Air Corps. They recruited men with a combination of intellectual and physical skills necessary to take on this mission. We know that from the records of protecting bombers, we know that from the calls for protection because of their extraordinary record of protecting bombers."
"We salute the Tuskegee Airmen but the D.C. Tuskegee Airmen are special. They went to war defending a democracy they didn't know. The Tuskegee Airmen were called from a larger group of African Americans to join the Air Corps. These were the best and the brightest and numbered 16,000, including support and administrative staff."
Segregation and racism were among the challenges black people faced in the early part of the 20th century. African Americans were discriminated against in the military, jobs, housing and education. Throughout World War II, black soldiers were not allowed to be a part of any white units because they were regarded as unfit for combat and were pushed into support positions.
Anderson, 88 and a D.C. resident born in Jacksonville, Fla., spoke of the pride he feels having served.
"As I stand here today, I feel deeply blessed and honored to receive this medal," he said. "Segregation was the law of the land and African Americans were regarded as second-class citizens. The fight for equality goes back but despite its shortcomings, the U.S. is still the greatest country in the world."