D.C. Honors Veterans and Tuskegee Airmen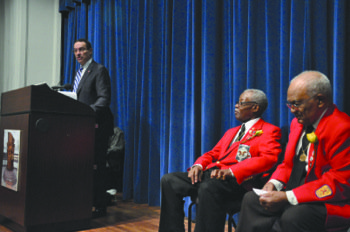 "After Pearl Harbor, people felt that the African-American man was not fit to fly military aircrafts in combat. I thank those who worked hard for equality."
Anderson served as an Army Air Corps Technician in the 477th Bomber group. He was a member of the ground support crew whose responsibilities included repairing and maintaining B-25 bomber aircraft which often translated into repairing bullet hole punctures.
Fauntroy, 87, brother of former D.C. delegate Walter Fauntroy, said he dropped out of high school when he was 17 to serve in the Army.
"I didn't want to go into the Navy because I had a cousin named Cook who was a cook," he joked. "My mom signed for me. She didn't think I could pass the tests. I went out to Bolling Field in 1944, a 17-year-old inducted into the Army Air Corps."
Fauntroy said as a pre-aviation cadet at Tuskegee, he waited a year and completed three of four parts of his training.
"I was a member of the Class of 1945 I," he said. "I completed 136 hours of flying. We always say they [The Axis] quit the war because of us. It wasn't true but that was what we said."
Fauntroy said his flight instructor, who had shot down three German planes, two on consecutive days, taught him formation flying, night flights, dogfighting and other flying maneuvers.
"My exposure to the Tuskegee Airmen who came before me had a profound effect on me," he said.
Fauntroy earned a degree in civil engineering from Howard University in 1960 and he became the first black engineer hired by the National Capital Transportation Authority, the predecessor of the Washington Metropolitan Area Transportation Authority (WMATA).
Fauntroy earned applause and cheers when he described his role in building the U Street Metro station and proudly reminding the guests that he saved cultural icons the Lincoln Theatre and Ben's Chili Bowl.
The men are members of the Tuskegee Airmen Inc., East Coast Chapter, a group which honors the contributions of the black support, air and ground crews attached to the Army Air Corps in World War II. Members also fundraise and through a range of local and national programs introduce young people to science and aviation.
Mayor Vincent C. Gray, 70, said it seemed like anything he said after the previous speakers would be anti-climactic.
"But what a special treat it is to be with the Congresswoman and two Tuskegee Airmen," he said. "It's no exaggeration to say they saved our nation … They excelled at a time when the ideals of this country were not represented."
Every speaker tied the issue of Congressional oversight and the District's lack of spending autonomy and independence to the sacrifices of veterans and those currently serving.
"Today, we the residents of the Nation's Capital are denied the full rights of citizens," said Anderson. "I urge you to join Norton, Gray and the city council in the fight for full rights for the residents of D.C. Full rights!"