D.C. Political Roundup: D.C. Statehood Advocates Offer Survey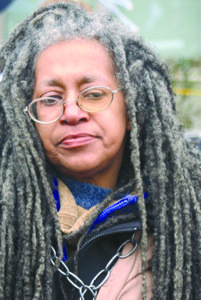 Stand Up! for Democracy in D.C. Coalition, a Northwest-based advocacy group that promotes District statehood, has recently released an online survey that asks the public about issues regarding the political rights of District citizens.
"We want to see whether people support D.C. statehood or not," said Anise Jenkins, a co-leader of the organization. "It is amazing that a lot of people around the country and the world do not know that District residents do not have voting representation in the U.S. Congress even though we do pay federal taxes. This survey is a part of the educational piece that we have."
Since 1997, the nonprofit has advocated for statehood unconditionally as the District's ultimate political status.
"We do not believe in breaking down each right," Jenkins said, alluding to incrementalism, a concept supported by D.C. Del. Eleanor Holmes Norton (D) and DC Vote in Northwest, which argues that the best path toward statehood must be achieved by taking small steps. "We want full [American] citizenship and the only way that can be achieved is by being a state."
The survey is designed to last only three minutes, but the length is determined on one of the first questions: Do you support District statehood?
"If you answer yes, you have a couple of more questions and then that is it," said Jenkins, 64. "If you say no, then the survey will switch to another set of questions that ask the participant about issues such as voting representation, higher federal taxes, our constitutional rights as citizens and the fact that Congress controls all of the District's local governance. We have found that many people who said no changed their minds when they found out about [the situation in] D.C."
The survey contains questions that deal with age, political affiliation, race and the home address of the participant. Jenkins said that her organization is compiling a database of survey takers and she said that the results will be released in early to mid-December.
Jenkins said that her organization has conducted over 1,000 face-to-face interviews in the past and that the online survey is the next step in terms of gauging the public's opinion. D.C. Mayor Vincent Gray's administration has provided financial support for the survey.
The organization also has a brochure that explains the political climate in the District and it answers some interesting questions.
"We have had people to ask us whether the District is big enough to be a state or how will the American flag look with 51 stars," Jenkins said with a smile.
Lewis, Evans Support FOM
The Friends of McMillan Park (FOM), an organization that wants McMillan Park in Northwest developed as a historical neighborhood site instead of a commercially-driven project supported by D.C. Mayor Vincent Gray (D), has recently received the thumbs up from two candidates for District mayor.
"I am with you; I will help save the park," D.C. Council member Jack Evans (D-Ward 2) told leaders of the organization during a meeting in the John A. Wilson Building on Oct. 24. Evans, 60, initially signed the Friends' petition at his campaign kickoff event in June, noting that the Gray Administration's plans will transform McMillan into a Crystal City-like business district.
Reta Jo Lewis, who announced her candidacy for the city's top political spot on Nov. 2, also expressed reservations with Gray's plans.
"Our government is attempting to move forward on a construction project of massive proportions at the Old McMillan Park Reservoir despite the residents asking for some green space, and at a minimum, a plan that preserves the historical heritage of the space," said Lewis, 60. "I'm proud to say that I am signing their petition."
D.C. Council member and mayoral candidate Muriel Bowser (D-Ward 4) has refused to sign the petition. D.C. Council member Tommy Wells (D-Ward 6), also a mayoral candidate, said in September, that he will work with the FOM to reach its goals.