EDITORIAL: Board of Elections Plan Still Needs Work
11/13/2013, 3 p.m.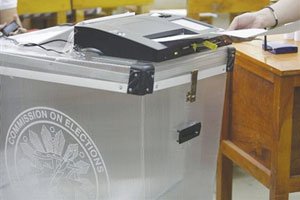 As the D.C. Board of Elections works on its proposed Precinct Boundary Efficiency Plan, the body would be wise to proceed in a deliberate and efficacious manner.
The aim of the plan, we're told, is to redraw and simplify the District's voting districts, but at recent meetings, critics have highlighted some issues that appear to worsen rather than improve the process.
Board officials say it seeks to reduce the number of polling places Advisory Neighborhood Commissioners (ANCs) have to campaign in, and ensure that candidates would be at polling stations where voters are able to vote for them. But a number of ANC officials have concerns that the Board did not conduct any grassroots outreach before choosing these new polling locations. And in addition, some have raised questions about the appropriateness of some of the proposed new locations.
Voters, critics say, would have to walk longer distances – varying from eight to 14 blocks – to get to polling stations. And Shelley Tomkin, chair of the Ward 3 Democrats, said the new plan would disrupt the organization, which is arranged by precinct and has the potential to break up political communities. Tomkin said that the Board should delay implementation of the plan until 2016 and allow communities more time to comment.
Commissioner Mike Silverstein (2B-06) said the plan put ease of election administration and campaigning before voter interest and pointed out that the plan would seriously inconvenience voters and cause related problems for ANC members.
Commissioner Rachel Nigro (6E-04) told Board members that she strongly opposes the proposal to use the United House of Prayer as a polling place because some church members have run for local office. Her constituents, she said, have made it clear that they do not want to vote in a house of worship and have expressed their strong preference for a more neutral location, such as the Kennedy Recreation Center, Dunbar Senior High School, or even keeping the boundaries the same.
Board Chair Deborah K. Nichols' comments reflect the dichotomy. She notes that "there needs to be something in place before the 2016 election."
While the Board thinks "it would be good to have a dry run in 2014," Nichols said the issue isn't put to bed and said the Board may schedule another public hearing."
As the Board of Elections moves forward, the plan will only have currency if there is transparency and if the public is fully involved.