Friends, Well-Wishers Honor Maudine Cooper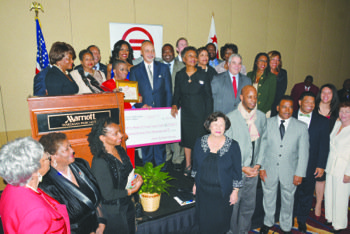 Carol Schwartz weaved her way through a throng of people milling at the front of the podium in a ballroom of the Marriott Wardman hotel trying to get to Maudine Cooper.
Schwartz finally climbed the steps, got Cooper's attention, hugged her hard, exchanged a few words and then the former D.C. Council member eased into the crowd.
"Oh my, I've known her for about 35 years at least," said Schwartz, whose stint in electoral politics began in 1974 and ended in 2008. "I was on the School Board and met her when she became Marion Barry's chief of staff. She's been a role model for me. I loved her feistiness and her get-the-job-done attitude."
"In those days, you didn't see a woman as chief of staff. We're also dear friends, have been to each other's homes, and been out to dinner. I admire what she's done and wouldn't miss this for the world."
Schwartz counted among several hundred friends, family, colleagues, employees and admirers who gave Cooper a lighthearted, spirited and poignant sendoff at a Friday, Nov. 8 tribute marking her retirement from public life.
The tribute at the hotel in Northwest, brought together Mayor Vincent C. Gray (D), Prince George's County Executive Rushern Baker III, several past and present members of the D.C. Council, and the DC Chamber's Barbara Lang. It also attracted a panoply of business people, government officials, former Urban League leaders who included Vernon E. Jordan, Jr., Hugh Price and Marc Morial, along with Urban League staff.
Many who spoke joked about Cooper's altruism, passion, straight talk and sharp tongue.
As soft piano nocturnes played in the background, guests mingled, enjoyed a variety of hors d'oeuvres, rekindled old friendships and talked about Cooper and the importance of the night. Her 40 years of public service served as a beacon that has shone through good times and bad in the city, people said.
"I've known her ever since I came to the Urban League. She's the gold standard. She's smart, aggressive, articulate and caring," said Jordan during an interview at the event. "She always gave me wise counsel, was very helpful in tough situations and never lost her cool. She'd summon me to the Hill when I needed to be and when she called, I answered."
Jordan, Urban League president and CEO from 1971-81 and now a partner with Akin, Gump, Strauss, Hauer and Feld, had the crowd chuckling during his brief remarks.
"It is an extraordinary honor and a privilege to have been summoned, subpoenaed by Maudine Cooper to be here tonight," he said.
Jordan said while doing research at Howard University Law School library, Cooper came across a quote from Supreme Court Judge Oliver Wendell Holmes, Jr., which said: "Life is action and passion; therefore, it is required of a man that he should share the passion and action of the time, at peril of being judged not to have lived."
"As a lawyer, social worker and leader, she dedicated her life. The city and the Urban League were the vehicles to do that," said Jordan, 78. "The Greater Washington Urban League was the primary vehicle to share her action and passion of the times and this nation and the city are better for it."