Friends, Well-Wishers Honor Maudine Cooper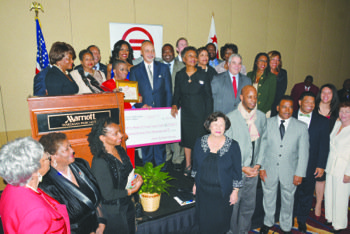 "I took your counsel, advice, curses and fussing and most of the time, did as you instructed. When it comes to the Urban League movement, you're the gold standard."
Cooper, 72 and a Mississippi native, worked as a tax lawyer; college lecturer; vice president of the National Urban League; head of the DC Office of Human Rights; chief of staff for former Mayor Marion S. Barry; and then embarked upon a 23-year stint as president and CEO of the Greater Washington Urban League (GWUL).
Beginning in 1990, Cooper shepherded an agency that currently serves more than 65,000 clients annually. The GWUL is a 72-year-old nonprofit, community service and civil rights organization and one of 95 affiliates of the National Urban League. The organization is one of the area's most active social service and civil rights entities and is celebrating its 75th anniversary.
GWUL provides assistance to the working poor, individuals, families, children and those in need. The Urban League provides direct services in three key areas: education, employment and training; health promotion and nutrition services; and housing and community development. It also offers scholarships to area students, summer enrichment programs and operates the Home Purchase Assistance Program for first-time home buyers.

Audrey Epperson, GWUL's director of education, employment and training, echoed other staffers' comments about the difficulty of the 1990 transition and said Cooper grabbed the baton of leadership and took the GWUL to new heights.
"When the name of the president-elect was announced, many of the League's staff who remembered Maudine Rice Cooper from her time with the National Urban League's D.C. office were excited because someone had been selected who was familiar with the Urban League movement," said Epperson, a friend and colleague of Cooper's for more than 20 years.
Cooper began a systematic review of the agency, talked to the program managers, visited each program office and conversed and got to know the staff.
"This was the beginning of her getting to know us and our programs," said Epperson. "It allowed the staff the opportunity to start to get to know her."
Former Washington Post owner and publisher Don Graham sent a letter that illustrated his admiration for his friend.
"I believe it was more than 20 years when we began sharing meals together as part of the Dinner Dialogue," he wrote. "Though we knew each other before, it was these dinners that turned us into friends. And then it was the years of working together on DC-CAP that cemented our friendship."
"I knew you cared about success for D.C. schoolchildren before anything else. And I came to know how devoted and decent you were."