MALVEAUX: Unmasking White Racism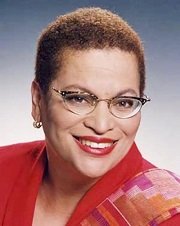 In 1896, Lyrics of Lowly Life, a collection of Paul Laurence Dunbar's poetry, was published. Although his poem was specifically focused on African American people, in this 21st Century, it is apropos to many. He recognizes the pain many feel about their inability to be "themselves" and if we fast-forward to today, he addresses the masks they wear because they want to hide from themselves.
The poem reads: "We wear the mask that grins and lies; That hides our cheeks and shades our eyes; This debt we pay to human guile; With torn and bleeding hearts we smile; And mouth with myriad subtleties.
"Why should the world be over-wise; In counting all our tears and sighs? Nay, let them only see us, while; We wear the mask. We smile, but, O great Christ, our cries; To thee from tortured souls arise. We sing, but oh the clay is vile; Beneath our feet, and long the mile; But let the world dream otherwise. We wear the mask!"
Whenever I read this poem I am struck by its poignancy. It recognizes the Black folks who tap danced when they'd rather do ballet, who hid their true feelings to get ahead, who are perceived as happy while "the clay is vile." It doesn't take a historian to evaluate the masks that people of African descent have been forced to wear in these United States.
In the early 20th Century, you could be lynched for looking a White person in the eye. No matter what your status, you were expected to clear the sidewalk when a White person walked by. You weren't supposed to scowl or protest, just to wear the mask.
When Senator Barack Obama ran for president of the United States, few chose to acknowledge that he stood on the shoulders of the great civil rights leader Rev. Jesse Jackson. Senator Harry Reid (D-Nevada), now an Obama ally, had the condescending temerity to describe a Harvard-educated Black man as "well-spoken." Many of us who earned advanced degrees from our nation's best institutions are stunned when we are described as "articulate." Some of us choose to wear the mask and silently absorb the nonsense. Others are plain spoken enough to pay the price of stunted career advancement, or a reputation for being "edgy."
People wear masks daily, sometimes to reveal who they are, and sometimes to hide their true identity. What does this imply, then, about the White people who think that a blackface mask is appropriate? Too many people, including the obscure and minimally talented actress Julianne Hough, decided to don blackface for a Halloween party, excusing herself by claiming she was simply going as a character in the show Orange is the New Black. When criticized, she said she was "sorry," but she should have said she was ignorantly sorry, because her historical knowledge is most deficient.
Did she go to anybody's school? Like Hough, those who think that blackface is funny, ignore the demeaning history of blackface caricatures. If these people are wearing a mask, it is a mask that allowed them to hide their racism until they had an excuse to let it show. Then their response is that "it is all in good fun, we meant no harm," or " I never meant to offend." That's the mask of arrogance. The mask of "I'm White, I'm going to do whatever I choose to do," a mask that allows them to ignore common decency.