P.G. County Councilman Plays the Blues
Derrick Leon Davis Gives Students a Lesson in Civics, the Arts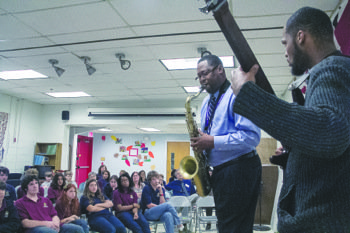 It's not every day that a politician performs a jazz and blues medley at a local school.
But students at the Washington New Church School in Mitchellville received a special lesson in civics and the performing arts from Prince George's County Councilman Derrick Leon Davis (D-Dist. 6) of Mitchellville and the Bowie-based Foundation for the Advancement of Music and Education (FAME).
"Everybody clap!" Davis, 45, shouted from the stage to an audience of about 40 students while he tapped his foot and played his saxophone aided by his bassist Reginald Payne.
"Walk Reggie, walk!" he said encouraging Payne to join him and step to the music.
Davis stopped by the small private school last week to greet students and discuss the importance of civic engagement and what role music and the performing arts play in his life.
"It's [very] important that you become well-rounded with your education," he told students. "We know what happens when we slack off and miss opportunities."
And if any elected official can teach students about the performing arts, it's Davis. In the 1980s and '90s, he was a saxophonist who performed with Experience Unlimited, the Washington, D.C.-based go-go band that scored a number one hit in 1988 with "Da Butt." Though Davis no longer performs with Experience Unlimited, he continues to lend his saxophone skills to the go-go group Ayre Rayde Band and Show on occasion.
During the one-hour lesson at Washington New Church School, Davis fielded questions from students about his work as a councilman and his passion for the performing arts.
"Does your music inspire you?" asked student Jordan Kinsely, 12, of Mitchellville.
Davis has been a strong advocate of supporting performing arts in county schools as a way to build confidence and increase engagement in other subjects.
"Music is my safe place," he said. "When I walk out the door [in the morning] and get my cup of coffee, it's showtime."
Ensuring that the performing arts are represented in schools is essential, said Toni Lewis, founder and executive director of FAME, who was on hand for Davis' performance.
"[Music] is natural – it helps [students] focus in other subjects," she said. "Music is math. Once [school leaders] see how important music is in the kids' lives, they stop cutting [programs]."
Through FAME, Lewis said 1,200 students throughout the D.C. region have access to music education and instruments.
"Without music and the arts, there is no culture," she said.
Administrators said the two-fold lesson was well received. The school, which has about 45 students, was founded in 1970. Administrators said they plan to expand the campus in the near future. Davis toured the school and grounds during his visit.
"It's fantastic," said Mike Gladish, the school's principal. "This is an opportunity for us to show [Davis] what we're about."
For more Prince George's County/Maryland news, follow @JoshuaGarnerDC on Twitter.