THE RELIGION CORNER: A Time to Give Thanks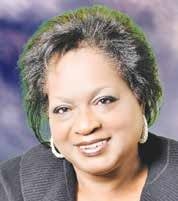 This is a special year; one in which the National Association for the Advancement of Colored People (NAACP) celebrates a century of historic firsts. During the recent annual Freedom Fund Dinner, NAACP Chairman Emeritus and keynote speaker Julian Bond and others, whose shoulders we all stand on provided not only food for thought but a topic that I'd like to share with readers this week.
During Bond's keynote address followed by Lorraine Miller, the new national president and CEO of the NAACP accepting an award, I couldn't help but feel tremendous gratitude and reflect on how far we've come as a people. Miller assumed the helm as the leader of the NAACP on Friday, Nov. 1.

What an exciting time for the NAACP, when we remember all of the individuals who founded this great organization, such as Ida B. Wells – we can't forget all she endured; yet when I take a look at how far we've come as a people, I must echo remarks given by the current president of the D.C. branch of the NAACP, Akosua Tyus. She reminded us of how far we've come, and in fact, she said that we've finally made it to 1600 Pennsylvania Avenue.
"We've even gotten elected all the way to the White House, so why do we still need an association like the NAACP," she asked. Then she provided an explanation as to why we continue to need the NAACP.

We forget something as simple as sharing restroom facilities – all races, and creeds under one roof – at one time that was unheard of – not to mention the ability to sit in a dining room and enjoy the NAACP dinner together both blacks and whites was forbidden in the days of Diahann Carroll, Sammy Davis Jr. and Lena Horne. Although they may have been the stars in the show at specific hotels throughout the country, they weren't allowed to participate in celebrations held in the hotel ballrooms.
We must look to the half-full glasses and not the half-empty ones. I'm guilty, as are most of us. We fall into ruts and begin our pity parties with ease. We feel sorry for ourselves. My own example occurred during altar call prayer last Sunday, my heart was heavy. I had the gall to feel sorry for myself, by discounting all of the blessings I currently enjoy. Blessings and freedoms which organizations like the NAACP helped to bring ensure.
Suddenly, I began to look only at those things that I'm thankful for; such as my life, health and strength. I thanked God for the opportunity to start and run a business without the worry of signs which stated 'Whites Only' – I thanked God for a car to drive rather than worrying about getting on and off of a bus via the back door; I thanked Him for my health, for feeling really good these days; with the ability to walk briskly and with a confident stride.
I thanked Him for making a way out of no way. I thanked Him for my grandfather who fought racism in the South. Today, my family enjoys a 226-acre farm which was won in 1945.
Thank and praise the Lord for the good in your lives. Remember the theme of my radio show which says, "Finally, brethren, whatsoever things are true, whatsoever things are honest, whatsoever things are just, whatsoever things are pure, whatsoever things are lovely, whatsoever things are of good report; if there be any virtue, and if there be any praise, think on these things." Philippians 4:8
Happy Thanksgiving to each and every one of you – always remember to be thankful. Again, congratulations to the NAACP for 100 years of leadership.
Lyndia Grant is an author, inspirational and motivational speaker, radio talk show host and columnist; visit her new website at www.lyndiagrant.com or call 202-518-3192. Tune in Fridays at 6 p.m., to the radio talk show, 1340 AM, WYCB, a Radio One Station.