Remembering Al Johnson
Unifics Lead Singer Struck a Chord with Fellow Musicians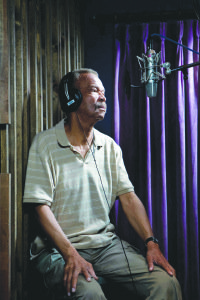 "Up drove the Hearse, Cadillac

A crowd of people gathered round it all dressed in black

And as they removed her body from the car
Such pain I never knew, did fill my heart…
Why, oh why, I heard her mother cry
As I rushed to the scene with tears in my eyes
Somebody asked, somebody asked who was the next of kin
And, oohhh Lord, it was the beginning of my end."
— "The Beginning of My End" (1968)
It may not have been the group's most successful single, but Al Johnson and the Unifics hit song, "The Beginning of My End," reached the top 40 on the Billboard Music Charts and peaked at No. 9 on the black singles chart in 1968.
It also captured the hearts of many Washingtonians who considered Johnson, a Newport News, Va., native, one of their own.
Johnson, who attended Howard University, where he formed the group that featured local talent from the Metropolitan area, struck a chord with fans and fellow musicians alike with his smooth, but powerful vocals as lead singer of one of the District's most popular recording acts.
"I've been recalling the many times that I've had the pleasure and the privilege to share the microphone and the stage with Al Johnson," said jazz and pop star Jean Carne, who worked with Johnson as well as the late Dizzy Gillespie, Phyllis Hyman, and the Temptations. "Al Johnson's orchestral arrangements for artists like, 'The Whispers,' were beyond genius," said Carne, 66.
"I was a fan since, 'The Beginning of My End,' and our first recording together was, 'I'm Back for More,' which has been sampled many times and was covered beautifully by Bobby Womack," Carne said. "Right now, I simply can't imagine music existing without (Johnson)."
Johnson, 65, who had battled multiple undisclosed illnesses for quite a while, died on Oct. 26 in Capitol Heights, Md., where he had lived for several years.
Johnson's cause of death has not been disclosed.
"There were some health issues, but nothing that was life threatening, as far as we knew," said Milt Delaney, who managed the Unifics.
The group last performed in Atlantic City, N.J., on June 22, as part of an R&B revue. During the show, Johnson led the group in rapid succession through hits like, "The Beginning of My End," "Court of Love," and "It's a Groovy World."
During his celebrated career, Johnson also found success with other groups as well. In 1978, he formed the group, "Positive Change," before producing a solo album titled, "Peaceful."
Johnson also helped to lay down tracks for such established artists as the Whispers, Roberta Flack and Peabo Bryson.
In 2004, after nearly three decades apart, Johnson and the Unifics reunited for the album, "Unifics Return."
While the record produced few sales and received little airplay, it still resonated with fans of the Unifics, particularly those in the District.
"I remember how everyone was so proud of Al Johnson and the Unifics. They were ours, Washington's own," said Fran Murray, a Northeast resident who said she attended the group's last full concert about one year ago in Newport News. "They still had it," said Murray, 63. "Their voices never seemed to change over the years, and they sounded just like the record. The concert was fabulous."