Sebelius Under Fire from Lawmakers
Health Secretary Slammed over Affordable Care Act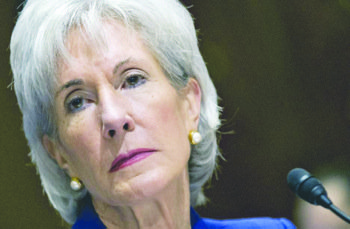 Lawmakers have continued to confront Health and Human Services Secretary Kathleen Sebelius with skepticism over adjustments yet to be made to President Barack Obama's Affordable Care Act and its accompanying website, which have resulted in a multitude of concerns and some unexpected insurance policy cancellations.
Despite the confrontations, criticism and, most importantly, the confusion over the Affordable Care Act, also dubbed "Obamacare", Sebelius said she's against delaying implementation of the health care law. She's confident most Americans will eventually embrace the president's plan.
"Delaying the Affordable Care Act wouldn't delay people's cancer or diabetes or Parkinson," said Sebelius, 65. "It doesn't delay the higher cost all of us pay when uninsured Americans are left with no choice but to rely on emergency rooms for care. So, for millions of Americans, delay is not an option."
Republicans in the Senate have called into question Sebelius and the president's credibility, noting that cancellation letters have been received by Americans with individual insurers because of the lack of – or clarity regarding – the information provided by the Administration with the new health care law that went into effect on Oct. 1.
"Your main goal should have been to protect Americans, to lessen their risk and to ensure their safety," Sen. Pat Roberts (R-Kan.) told Sebelius during a hearing on Capitol Hill, Thursday, Nov. 7.
"But, in your zeal to implement this law, not warnings, not advice, not counsel would deter you from implementing the exchanges. You've said America should hold you accountable, which is why I repeat my request for you to resign," said Roberts, 77.
Sebelius declined to respond to Roberts' call for her resignation.
While not as denigrating, Democrats have also questioned some aspects of the new law and its implementation.
"I want it to work. I want to do what I can to help make it work," said Sen. Max Baucus (D-Mont.). "But, that means you also have to. It's a two-way street. You have to tell us what's going on, candidly, fully, totally," said Baucus, 71.
Sen. Debbie Stabenow (D-Mich.) also voiced concern as she used the example of a cancer patient who is worried about the potential loss of health care because of the uncertainties surrounding the new law.
"There [are] no words to even describe the frustration that we all have," said Stabenow, 63. "Will (the cancer patient) or anyone else face caps on their cancer treatment? Will (the patient) or any other women be charged more than men for their coverage?"
Sebelius said neither would occur.
Officials at the Department of Health and Human Services in Southwest Washington, D.C., said the new law puts consumers in charge of their health care.
Under the law, a new Patient's Bill of Rights gives Americans the stability and flexibility they need to make informed choices about their health, Sebelius said.
The key features of the law include ending lifetime limits on coverage. Insurance companies must publicly justify any unreasonable rate hikes, and money paid toward premiums must now be spent on health care, not administrative costs, Sebelius said.