Sebelius Under Fire from Lawmakers
Health Secretary Slammed over Affordable Care Act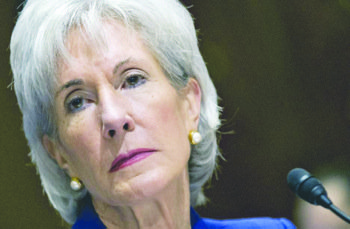 Also, health plans can no longer limit or deny benefits to children under 19 due to pre-existing conditions and, if an individual has reached age 26, they still could be eligible for coverage under their parent's plan.
"Even though the insurance company could raise premiums, they couldn't eliminate benefits or take away items that the consumer liked," Sebelius said.
Still, officials railed about the delays and the breakdown of the website in which individuals could acquire insurance.
Since Oct. 1, the new HealthCare.gov website where individuals can acquire insurance has encountered problems.
Error messages, trouble creating an account or even logging in has been chief among the complaints and some have said they've lost existing coverage because of it.
Making matters worse, officials created a virtual waiting room which only added to the confusion.
Above all, the Administration also has put in jeopardy the personal information of citizens by taking the website live before security testing could fully be completed, said Sen. Orrin Hatch (R-Utah). "Those who can access the website could actually find themselves at the mercy of identity thieves across the globe," said Hatch, 79.
Sebelius said there have been no such breeches in the system.
Also, Obama told NBC News that he's sorry that he didn't keep his repeated promises that anyone who wanted to maintain their current plan could do so under the new law.
The presidential apology didn't move Republicans in the least.
"If the president is truly sorry for breaking his promises to the American people, he'll do more than just issue a half-hearted apology on television," said Senate Republican Leader Mitch McConnell (R-Ky.).
"A great place to start would be to support the bill that would allow Americans to do what the president promised in the first place, which is to keep the plan they have and like," said McConnell, 71.
Sebelius and other Administration officials contend that all of the problems should be fixed by the end of November.
"I would say there are a couple of hundred functional fixes that have been identified, and they are in priority groupings," Sebelius said. "It's a pretty aggressive schedule to get [through] the entire punch list."