Stalled Hyattsville Development Shows Signs of Life
Plans for University Town Center Make Progres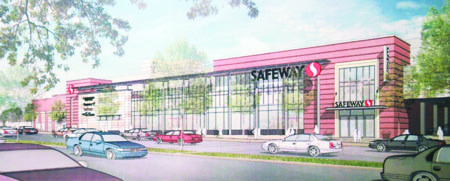 A $1 billion mixed-use development in Prince George's County that stalled during the 2008 recession is showing signs of life under legislation that could help bring a grocery store and additional tenants to the project.
The Prince George's County Council on Tuesday, Nov. 12 passed legislation that they hope will give the University Town Center (UTC) in Hyattsville a shot in the arm by providing more than $3 million in tax incentives and other funds for a planned Safeway store.
The project is being developed by Pittsburgh-based Echo Realty and would bring a 55,000 square-foot Safeway grocery store to UTC in addition to 27,000 square-feet of retail space. The development would be two-levels and include an upper-level parking garage. The project would sit near the northeast intersection of East-West Highway and American Boulevard, which is currently a large parking lot.
The project could break ground as soon as the spring of 2014, said Howard Biel, senior vice president at Echo.
"We believe very strongly in the location," he said. "We have been extremely pleased by the cooperation of [Prince George's County and the City of Hyattsville]."
Biel said Echo partnered with Washington, D.C.-based developer The Bernstein Companies on the project after the property went into foreclosure in 2011.
County officials said they've been making strides to give the development a jump start. Less than half of UTC was affected by the foreclosure. And tenants still include Kaiser Permanente, FEMA, the CDC, and the U.S. Treasury.
"We are focused on that project," said David Iannucci, deputy chief administrative officer for Economic Development and Public Infrastructure. "It has some serious challenges."
Prince George's County Executive Rushern L. Baker III (D) has made transit-oriented developments a priority in the county as a way to decrease suburban sprawl and congestion and focus economic growth inside the beltway.
University Town Center was first conceived in the early 1960s as a mixed-use transit-oriented development along East-West Highway. It was adjacent to the Mall at Prince George's, the Prince George's Plaza Metro Station and less than five miles from the University of Maryland, College Park.

But it wasn't until 2006 that the development began to evolve into a mixed-use project bringing together office space, retail, and housing units. Along with a 14-screen movie theater, the Safeway was planned to be one of the development's anchor stores. The project was the county's first mixed-use development, but stalled during the economic recession in 2008. Besides the theater and a few smaller restaurants, large portions of the retail space and condos at UTC sat empty. Ultimately, portions of the project fell into foreclosure in 2011 before being purchased by Wells Fargo for $25 million in an auction.
Greg Ten Eyck, a spokesman for Safeway, said the project initially broke ground near the recession but it soon became clear there were problems with the original developer.
"We realized that the developer had some financial issues," he said.
Still, Echo Realty's plan showed some promise, Ten Eyck said.
"We would like to build a store there," he said. "There has been some remanence of life in the project."
For more Prince George's County/Maryland news, follow @JoshuaGarnerDC on Twitter.