UDC Focused on Program Cuts, Accreditation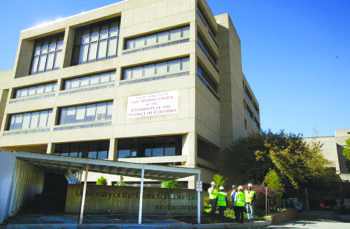 A year ago, the University of the District of Columbia (UDC) appeared to be in big trouble.
An inadequate accounting system — to which university officials reluctantly conceded in 2011 — allowed spending in unauthorized areas — including extravagant trips abroad by then-President Allen Sessoms. Also, while UDC officials hustled to make ends meet, enrollment languished, cost-of-living increases came to a standstill and university officials' considered slashing programs and personnel.
But only after the city refused to cough up $4 million last year to fund 25 severance packages, did the Board of Trustees get serious about a new vision: They fired Sessoms, who'd insisted the cuts were needed to steer the university toward greater operating efficiency.
"We have been put in a position by the funding mechanism to cut back on spending, and in doing so, we've had to look at how much flexibility we have regarding faculty and staff size and facilities costs," Sessoms said in October 2012.
This past summer, however, D.C. Council Chair Phil Mendelson participated in a retreat with UDC officials where the school's strategic plan took center stage.
During the three-day gathering, Mendelson recalled discussing the school's plight with his council colleagues.
"The view [among us] was that the university was in a bit of a mess and needed to get its act together," said Mendelson, 61. "That's why the council passed legislation a couple years ago requiring that there be a strategic plan … [yet] there's been some pushing and pulling and some frustration, especially on the university's part."
Fast-forward almost a year since Sessom's December 2012 ouster, and UDC officials contend that although the city's only public college has taken a step in the right direction, several programs are on the chopping block because of low enrollment — or in some cases to make up for high personnel costs as a result of over-spending by previous administrations.
Among two-dozen degree programs — as well as all of the school's athletic teams — that could face termination are early childhood education; journalism and communications; physics; sociology; chemistry; and math statistics.
"We haven't cut any programs, as the Board of Trustees hasn't actually voted on the proposal and made a decision," said Rachel Petty, interim provost and vice president for Academic Affairs.
"We've [had] hearings [that started the week of Nov. 4], so the proposal which came out of Academic
Affairs and consultations that began in August with the faculty, could change based on [the public's] or Board's [input]," Petty said. "So a decision won't happen until [later], and at that point, we'll know what's most likely to go before the D.C. Council as a recommendation."
However, Mike Rogers, vice president for institutional advancement, said that in the event programs are cut, only a small percentage of the university's students would be affected.
"Some of the programs are being eliminated because they're unsubscribed, meaning there's not a whole lot of people graduating from them over the past few years," Rogers said.
"While some are being turned into minors, others will become concentrations or certificate programs. Those programs that remain, represent 90 percent of our enrollment," he said. "So less than 10 percent of students would be affected by these eliminations, with many of them being able to participate in teach-out programs — or they could end up changing their majors."