UDC Focused on Program Cuts, Accreditation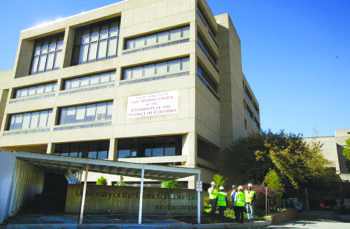 Sean Hoggard, who received his bachelor's degree in mass media arts in May, said he was "shocked" to learn that the journalism and communications curriculum could be eliminated.
"I don't know what to say," said Hoggard, 23. "It's a good program that's well worth keeping. I heard that they were getting rid of the Theater Department, but the journalism program seemed to be doing so well," Hoggard said. "If the journalism program ends, I think they're going to let current students finish finish their studies, but probably won't enroll additional students."
Rogers said that before UDC's
proposal — also touted as "Vision 2020" — reaches Council chambers next month, it will be heavily scrutinized by the 16-member Board of Trustees on Tuesday, Nov. 19.
The proposal, which addresses the economic needs of the District, also includes feedback gathered last year from more than 1,000 students, faculty and alumni. Overall, it's designed to significantly improve the university's curricula, student enrollment, retention, and graduation rates.
Rogers said there hasn't been a huge increase in UDC's enrollment, which when combined with the four-year-old community college, hovers at 6,000 students.
"Some [divisions'] enrollment is slightly up and some are slightly down," he said. "But overall, we still have [around the] same number of students we had last year."
Meanwhile, the Philadelphia-based Middle States Commission on Higher Education has expressed concerns over UDC's operating efficiency as it prepares for re-accreditation in 2016.
In order for the university's community college — which has to achieve separate accreditation — to gain full campus branch status, UDC must prove its financial stability.
Also, officials are adamantly denying rumors that cropped up shortly after Sessoms' departure, that the university could possibly be skidding toward closure.
James Lyons, who was named interim president in March, quickly took to the school's website to end the gossip.
"The university is not in danger of closing. Operations are continuing as normal. The university is well-managed, and the top priority remains student achievement," said Lyons, 69.
He went on to state that the right-sizing plan that was mandated in May 2012 by the D.C. Council — and which shaved $8 million from the school's budget — has ultimately provided "an opportunity to re-evaluate [UDC's] position and purpose" in the District.
"UDC is moving forward," said Paul Bachman, a professor of management in the university's School of Business and Public Administration. "The issue we're having now is with the D.C Council over how money has been spent in the past by Sessoms, whose termination left the school in financial distress as [a] result of excessive administrative costs."
Bachman said he wondered why anyone would think to shutter the school, for which a budget of
$106.8 million has been set aside for fiscal 2014.
"Fundamentally, the university can live within its budget if they keep the focus on their educational mission — and there's no problem with them doing that."