Unity Health Care, Medical Homes DC to Open New Health Center
11/13/2013, 11:22 p.m.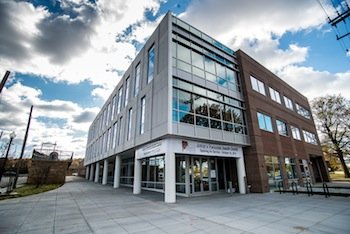 District residents that live in the Promise Community east of the Anacostia River in Ward 7 will welcome a new state-of-the-art community health center that expands access to primary care.
One of six capital projects funded primarily with D.C. government funds through the District of Columbia Primary Care Association's (DCPCA) Medical Homes DC Initiative, the new health center is the collaborative effort of Unity Health Care, DCPCA, the D.C. Department of Health and the Health Resources and Services Administration, an agency of the U.S. Department of Health and Human Services.
Unity Health Care's Parkside Health Center is another success story of DCPCA's Medical Homes DC Initiative, a project that leverages dollars and provides support and expertise to expand primary care access in underserved areas such as Ward 7. Working together, DCPCA and Unity secured the Kenilworth Terrace property and began construction in July 2012.
Unity Health Care's Parkside Health Center opened its doors for service in October at 765 Kenilworth Terrace NE. The new 42,588-square-foot facility will provide quality, patient-centered health care services through an estimated 50,000 annual patient visits.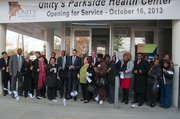 "Unity's Parkside Health Center is an example of extensive planning, community engagement, and dedication and represents one of the most successful public-private partnerships in health care in the District of Columbia," said Jacqueline Bowens, CEO of DCPCA. "This reflects and expansion of primary care in the right place… at the right time."
DCPCA dedicated nearly $15.6 million in funding provided by DOH through the District's Tobacco Master Settlement Agreement for project costs for the new building. These funds accounted for approximately 75 percent of the resources needed for the new health center and created the opportunity for Unity to leverage the remaining 25 percent ($8.3 million) through investment by affiliates of U.S. Bancorp Community Development Corporation and City First New Markets Fund II, LLC.
On Wednesday, Nov. 13, 2013, Unity president and CEO Vincent A. Keane, along with D.C. Delegate Eleanor Holmes Norton, Mayor Vincent C. Gray, Bowens, representatives from DOH, the U.S. Department of Health and Human Services, and others will commemorate this momentous accomplishment at the official Grand Opening Ribbon Cutting Ceremony at 11 a.m. outside the Unity-Parkside facility.
D.C. Council member Yvette Alexander (Ward 7), who chairs the Council's health committee, has been a champion and supporter of the project from its inception.
"I'm excited about Unity's Parkside Health Center opening up right here in Ward 7," Alexander said. "This is great for our residents who can benefit from access to quality health care right in their neighborhood."
The patients now being seen at Unity's Parkside Health Center were formerly served at Unity Health Care's Hunt Place Health Center located at 4130 Hunt Place NE. Unity, with operating and facility support from the DOH, provided quality care at the outdated Hunt Place site for approximately 23,000 patient visits annually.
The Hunt Place site was officially closed on Oct. 11 and services were relocated to the new Kenilworth Terrace facility on Oct. 16.