Obama Offers Health Care Fix, Says Canceled Plans Can Be Kept for a Year
WI Web Staff | 11/14/2013, 12:30 p.m.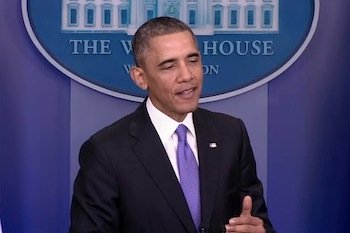 President Obama offered a fix on Thursday for Americans who received cancellation notices for policies Thursday, saying insurers are no longer mandated to cancel plans next year due to the Affordable Care Act.
During a press conference at the White House, Obama said that insurers can continue the plans through 2014, as long as inform people of what isn't covered by their policies. They also have to tell people that they do have the option of going onto the federal and state-run health insurance exchanges to buy new plans with federal income-based subsidies or, in some cases, signing up for Medicaid.
"This fix won't solve every problem for every person, but it will help a lot of people," Mr. Obama said.
Obama again took blame for the malfunctioning federal exchange website and said the "fumbled" rollout of the site and of the health care law in general was "on me."
The White House announced Wednesday that about 106,000 Americans have successfully obtained private health care coverage through the Affordable Health Care Act during the first month of open enrollment, far short of the desired number.
The federal exchange site, Healthcare.gov, has been plagued with glitches since the law went into effect on Oct. 1, hampering citizens' ability to enroll.
"We always knew that was going to be complicated and everybody was going to be paying a lot of attention to it," he said. "We should've done a better job getting that right on day one, not day 28 or day 40."
He said that he was largely unaware that the site was misfiring so badly and that he wouldn't have championed it had he known of the site's issues beforehand.
"I'm accused of [being] a lot of things, but I don't think I'm stupid enough to go around saying this is going to be like shopping on Amazon or Travelocity a week before the website opens if I thought that it wasn't going to work," he said. "Clearly we, and I, did not have enough awareness about the problems in the website."