Kathleen Battle, Cyrus Chestnut Kick Off Kennedy Center's Jazz Season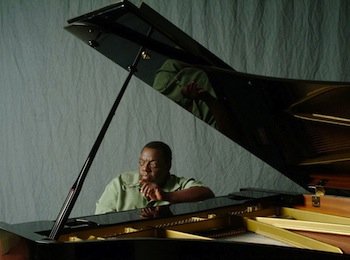 Last weekend's concert featuring Kathleen Battle, accompanied by pianist Cyrus Chestnut, was indeed "Something to Sing About," the title of the performance and also an apt introduction for a stellar line-up of jazz programs and concerts scheduled through the end of the year.
Battle, who makes occasional regular appearances at the Kennedy Center, came in full voice to perform songs that she has made her own through the varied repertoire she has performed on her Grammy-award winning albums. With a repertoire that spans over three centuries, Battle is as comfortable performing arias as she is spirituals, ragtime classics and popular songs by Gershwin, Ellington, and Rodgers and Hammerstein. Time has done nothing to diminish her glorious voice, which soared and sweetened to match the varied genres she performed.
Throughout her career, Battle has joined forces with Chestnut for select tours, and the two play off of each other comfortably. Opening with traditional spirituals and sacred music, Battle's voice is strong and emotive against Chestnut's church-trained gospel piano. But when it came time to switch to playful jazz, as she did with Ellington's "Squeeze Me" in the second half of the two-hour concert, Chestnut's versatile keyboards kept pace.
Throughout the concert, which moved from the Gershwins, to "Ragtime" by Scott Joplin and W.C. Handy, to the American Songbook closing out with Ellington classics, Battle's vocals were point and counterpoint with Chestnut's piano, but she also stepped back allowing the consummate jazz pianist to improvise within the tunes, even performing solo on Ellington's "Caravan."
"Something to Sing About" ushered in what promises to be a full-on jazz closeout to the year for the Kennedy Center, which next week will present "American Voices," a program which looks at master vocalists through workshops which are open to the public followed by panel discussions. On Nov. 22, the legendary Dianne Reeves will instruct a selection of students in jazz vocalization followed by a panel discussion. On Nov. 24, gospel powerhouse Kim Burrell will lead a workshop followed by a panel including Richard Smallwood, Deborah Smith-Pollard and Nolan Williams Jr.
As the holidays commence, "NPR's A Jazz Piano Christmas," will be presented on Dec. 7 in two shows at 7:30 p.m. and 9:30 p.m with Andy Bey, Stanley Cowell, Sullivan Portner and Michele Rosewoman. On Dec. 31, jazz piano legend Ramsey Lewis teams up with John Pizzarelli for "Straighten Up and Fly Right: The Nat King Cole Tribute" for a Jazz New Year's Eve. Also on New Year's Eve, Ellis Hall will perform "Ray, Motown and Beyond," taking the iconic music of Ray Charles and Motown to close out the year.
Contact the Kennedy Center at (202) 467-4600 or visit www.kennedy-center.org for a complete schedule and to purchase tickets.