D.C. Releases Its First Alzheimer's State Plan
11/19/2013, 3:37 p.m.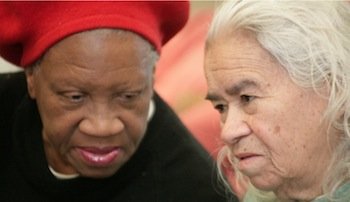 The D.C. Office on Aging announced Tuesday the release of the District's first-ever State Plan confronting Alzheimer's disease in conjunction with November, which is National Alzheimer's Disease Awareness Month.
According to the Alzheimer's Association, 9 percent of seniors in D.C. have the disease.
The city's plan seeks to set measurable goals to help improve the lives of District residents living with this disease and reduce the burden on caregivers and their families.
"We developed this plan to ensure that all residents diagnosed with Alzheimer's disease and their caregivers receive the adequate support needed to reduce the burden that is often associated with this illness," said BB Otero, Deputy Mayor for Health and Human Services.
The plan engages city government agencies, federal partners, the private sector and nonprofit organizations to make Alzheimer's disease a priority for the city.
The plan outlines several goals and inclusive strategies to enhance care and support for individuals suffering from Alzheimer's, including:
· Developing comprehensive research and data,
· Enhancing quality care for seniors diagnosed with Alzheimer's disease,
· Creating a robust public awareness campaign to increase awareness about Alzheimer's disease throughout the District, and
· Improving training and workforce development.
"We understand that Alzheimer's disease is a complex issue that will take time and collaboration for various stakeholders to address this problem. With an increase in the number of Washingtonians living with the disease, there will also be an increase in family caregiving demands, both emotionally and financially. Therefore, we have created a five-year plan that includes various short- and long-term solutions that seek to enhance the lives of persons with Alzheimer's disease and their families," said John M. Thompson, the agency's executive director.