Upscale Dining Options Expanding in Prince George's County
Copper Canyon Grill Opens at Woodmore Town Center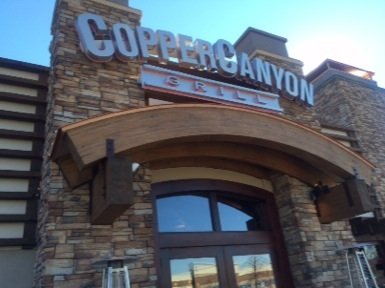 Residents in Prince George's County will have a deluge of upscale establishments opening this week.
While the Tanger Outlets mall is slated to open Friday near National Harbor in Oxon Hill, another billion-dollar development is slowly expanding its upscale options with the opening of Copper Canyon Grill at the Woodmore Towne Centre in Glenarden this week.
Community members including representatives from the Prince George's Chamber of Commerce gathered Tuesday at the restaurant for its grand opening week. Billed as an upscale take on classic American Cuisine, the 142-seat restaurant is Woodmore's only fine dining establishment.
Based in Columbia, Md., the restaurant is part of the Blue Ridge Restaurant Group, which owns and operates restaurants in Columbia, Gaithersburg, and Silver Spring. The Woodmore restaurant is the company's first in Prince George's County.
"We are very excited to be here in Prince George's County — it's definitely underserved in terms of [dining options]," said Juancarlo Parkhurst, director of operations for the restaurant.
Parkhurst said the restaurant is ready to handle a surge of guests when it officially opens Wednesday. The restaurant has already hired a serving staff of 40 with 20 more expected to be hired by the end of the year. Parkhurst said the staff, which includes 15 cooks and back-of-the-house workers, spent two weeks training at the nearby Radisson Hotel.
"My team here is as good as any team I've ever had," he said, adding that the restaurant's goal is to ensure guests have their meals within 20 minutes during dinner service and about 12 minutes during lunch service.
Putting together strong service and hospitality teams is something the county has made a priority as career paths for residents when it opened the Hospitality and Tourism Institute nearly 10 years ago at Prince George's County Community College.
The college's president, Charlene M. Dukes, said that the Institute is ready to assist and partner with the restaurant to meet service needs.
"It certainly is an opportunity to partner with the community college," she said. [The service industry] is always talking to us about what we can add to [core curriculum]. … It really is [beneficial] hearing from professionals."
Copper Canyon Grill opens Wednesday, Nov. 20 at 9300 Taj Lane in Glenarden.
For more Prince George's County/Maryland news, follow @JoshuaGarnerDC on Twitter.