Commissioners Leery about Proposed Boundary Changes in D.C.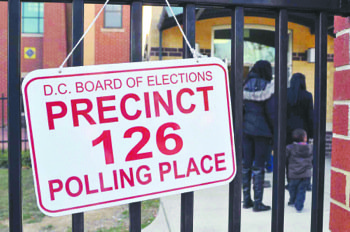 The proposal by the District's election board to redraw voting boundaries has garnered strong opposition from advisory neighborhood commissioners, the elected officials who will be adversely affected by such a change.
The District of Columbia Board of Elections will hold two hearings – at 10 a.m. and 6 p.m. on Thursday, Nov. 21, at One Judiciary Square – on its new plan to change the city's voting precincts. The board released its plan on Oct. 2 and basically wants to have one voting precinct per advisory neighborhood commission (ANC) single-member district.
"The plan was proposed with voters in mind because we understand their time is valuable," said Clifford Tatum, executive director of the District of Columbia Board of Elections. "Realigning the precinct boundary lines reduces the number of ballot styles and more evenly distributes voters at each polling place, thus reducing wait times. Doing so ensures [that] voters are getting the correct ballot listing their ANC candidates."
However, a number of commissioners have reservations.
"There has not been enough information about this process," 8A01 Commissioner Holly Muhammad said during the Saturday, Nov. 16 meeting of the Ward 8 Democrats at Turner Elementary School in Southeast. "There are still a lot of people who don't know about this."
Muhammad said that several single-member districts are large and it might risk disenfranchising some voters due to difficulty in traveling to a specific voting precinct.
Mike Silverstein, the commissioner for 2B06 in Northwest, said that long lines at voting precincts in his district rarely occur.
"It could be because in the District we have same day voter registration," said Silverstein, 65. "The Board of Elections wants to simplify the work for the people who work at the polls on Election Day. They don't want their workers to have to deal with all of those ballots."
Silverstein doesn't support the plan because it might inconvenience many voters.
"Some of these districts are strangely drawn," he said. "For example, in Sursum Corda [in Northwest], under the new plan, residents would have to walk 15 blocks to vote when there is a polling place across the street."
Silverstein said that there are three polling precincts in his district and he hasn't heard any complaints from residents. Charles Wilson, the commissioner for 8A05, said that the plan is problematic for residents who are used to voting at a certain precinct.
"There are two precincts in my area – Union Temple Baptist Church and Anacostia High School," said Wilson, 37. "The way the proposed boundaries are set up, some people who live closer to Anacostia High School will be voting at Union Temple and that makes no sense at all. I think that the neighborhood precincts should be kept intact."
Darrell Gaston, on the other hand, a commissioner for 8B02, supports the plan.
"The changes in the boundaries will make it easier for commissioners to campaign for their positions," said Gaston, 27. "You will be able to identify with your voters. ANCs are small enough to have a one precinct boundary."