Commissioners Leery about Proposed Boundary Changes in D.C.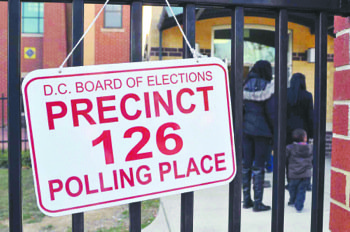 Gaston said that the board's plan can be implemented efficiently and it's up to the commissioners to educate their constituents about the changes.
Others disagree.
Olivia Henderson, commissioner for 8D02 said that the boundary changes could backfire.
"People will be confused about where they will vote," said Henderson, 39. "Residents will not know where to vote and in some instances, you have people who have voted in the same place for 30 years. They will have to go out of their way to vote and some people will just turn around … and not want to vote."
The Ward 8 Democrats voted, at the meeting at which Muhammad spoke, not to support the plan and the organization's president, 8A07 Commissioner Natalie Williams, is scheduled to inform the Board of Elections, on Thursday, Nov. 21 that members adamantly oppose the new plan.
Mary Cuthbert, commissioner for 8C03, said that the D.C. Democratic State Committee will discuss the boundary matter during its December meeting.
Everyone's Welcome.

The public is invited to attend the upcoming hearings and express their views, Tatum said.
"We want to remind everyone that the proposal is simply a starting point to identify the necessary changes in order to streamline the process."
"The board is interested in receiving as many comments and suggestions as possible to ensure that the plan is as effective as can be," Tatum said.