D.C. Educators Praised at 'Standing Ovation' Ceremony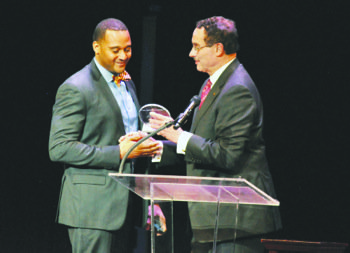 Great teachers and principals are vital for ensuring students enrolled in the District of Columbia's Public Schools (DCPS) system receive a superior education.
Sometimes they're met with challenges that can diminish their diligence, but as one of the most important forces in the lives of young people, these teachers try to engage their students in learning.
"Our educators are spectacular and their hard work and commitment to our students and families does not go unnoticed," said DCPS Chancellor Kaya Henderson. "These remarkable educators represent the best of DCPS. Their commitment to their students is inspirational and I'm so excited to honor them."
Henderson, 43, made these glowing remarks during this year's Standing Ovation Awards for DC Teachers.
The fourth annual ceremony, sponsored by the DC Public Education Fund, took place earlier this month at the John F. Kennedy Center for the Performing Arts in Northwest. Touted as the "Oscars" of education, the two-hour event was hosted by NBC4 anchor Jim Vance. Grammy award-winning recording artists Luke James and Estelle entertained the audience.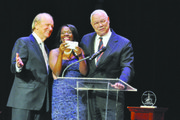 "We're proud to organize this event [each year since 2010] to showcase a record number of highly effective teachers in the DCPS system," said Catherine Townsend, president of the nonprofit fund. "We [continually] thank the business and philanthropic community for their support at ensuring the [ongoing] success of Standing Ovation."
Abdullah Zaki, administrator at Kelly Miller Middle School took top honors as DCPS' 2013 Principal of the Year. Zaki and nine teachers walked away with $10,000 awards, compliments of David Rubenstein, chairman of the Kennedy Center.
Excellence in Teaching awards were accepted by Kathy Hollowell-Makle, kindergarten instructor at Simon Elementary School and 2013 Teacher of the Year; Asonja Dorsey, first-grade teacher at Maury Elementary School; Chenise Richards, 12th-grade English teacher at Coolidge Senior High School; Davey Yarborough, director of Jazz Studies at Duke Ellington School of the Arts; Fran McCrackin, first-grade teacher at Janney Elementary School; Hardett Taylor-Brown, science resource instructor at Cleveland Elementary School; and William Taylor, math teacher at Wheatley Education Campus.
Zaki has been a District educator for nearly 15 years. He believes gains in education come from "the direct result of utilizing data to make informed decisions, providing quality professional development opportunities, celebrating the accomplishments of all members of the school family and establishing a culture of equity, excellence and expectations."
Over the past three years under his leadership at Miller in Southeast, Zaki has seen truancy reduced from 30 percent to one percent – and suspensions decreased by more than 50 percent.
In addition, according to results of the DC Comprehensive Assessment System which were announced this summer, Miller students' standardized test scores have increased by more than 30 percent in math and by more than 15 percent in reading.
Adelaide Flamer, principal at Simon Elementary in Southeast, said Hollowell-Makle is "highly respected" by her colleagues, and added that she's a knowledgeable, compassionate, dedicated, and enthusiastic educator.
Hollowell-Makle said she knew after only two years on the job, that she was destined to be a teacher.
"Our schools can put out the best and the brightest," she said. "[And], here I am some 15 years later at Simon, where I've taught for four years," she said. However, "the best part of teaching is having former students recognize me, and being able to see how wonderful they turned out to be."
Several other DCPS employees received $5,000 cash awards also provided by Rubenstein.
To that end, Henderson extended her gratitude for Rubenstein's support of DCPS.
"He is such an important partner in our work," Henderson told the crowd on Nov. 4. "I'm grateful that his [big-heartedness] helps us to tell these [faculty and staff members] just how much their hard work means to us."